John Fogerty To Guest Star On 'The Finder'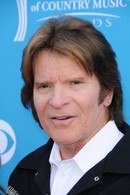 Rock legend John Fogerty has landed a new TV drama gig after providing the program's theme tune.

Producers of new show The Finder were so pleased with the former Creedence Clearwater Revival star's soundtrack for the show they offered him a guest role.

He tells Billboard.com, "I guess they're big fans and had this idea that they wanted me to play a character. They had a storyline that was inspired, I guess, by some events in my real life."

And Fogerty admits he's still thrilled when he hears his music on TV: "The Finder tune sounds very much like me... kind of my swampy sort of sound. It's short (but) it's enough for an opening credit theme.

"I have to admit when I got to the point where I was mixing that I remember thinking to myself, 'Wow, this sure is cool. It will be great to hear something like this on TV,' because it's much more my kind of element rather than the usual sort of spacey, techno stuff you always hear."

In his upcoming episode of The Finder, the rocker plays a musician whose stolen guitar is returned to him by the show's titular character.