John Denver Musical In Development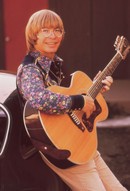 John Denver's songs are set to hit the Broadway stage as part of a new musical called "A Moment in Time."

Actor Drake Bell and Lindsay Pierce were part of an 11-strong cast read through last week, and insiders claim the project will feature reworked versions of Denver's hits like "Annie's Song," "Rocky Mountain High," and "Take Me Home, Country Roads."

"A Moment in Time" follows the story of a mortally wounded marine in Afghanistan who recalls a happier time with his family in the Blue Ridge Mountains of Virginia.

The project was developed by five-time Tony Award winner Stewart F. Lane, who was recently honored with the 2011 John Denver Spirit Award.

Denver died in October, 1997, when the plane he was piloting crashed into Monterey Bay, California.