John Cusack Stars In 'Grace Is Gone,' Now On DVD

When a man learns that his wife has unexpectedly died, he begins the most difficult journey of his life in
Grace Is Gone
, a heartfelt story of grief and healing, coming home to DVD May 27, 2008 from Genius Products and The Weinstein Company.
Golden Globe® nominee*
John Cusack
(
1408
,
High Fidelity
) gives a powerful and poignant performance as Stanley, an ordinary man struggling to comprehend his wife's sudden death in the Iraq war.
Choosing not to confront her death, he takes his girls on a spontaneous road trip buying him much needed time as he soul searches for a way to tell them the tragic news he knows will change their lives forever. Garnering two Golden Globe nominations, including Best Original Score and Best Original Song, composed by
Clint Eastwood
(
Million Dollar Baby
),
Grace Is Gone
also received both the Audience and Best Screenplay Award at the 2007 Sundance Film Festival, and was a final nominee for the Grand Jury Prize.
Special Features:
- A Conversation on Grace Is Gone director James Strouse and Cusack
- Inspiration of Grace Is Gone - the real story
- Profile of TAPS - the organization that provides support for people that have lost loved ones to war
Summary: A husband whose wife has just been killed in Iraq doesn't have the courage to tell his two young daughters that their mother has died, so instead he decides to take them on a road trip, not to just make it easier on the girls but to make it easier for himself.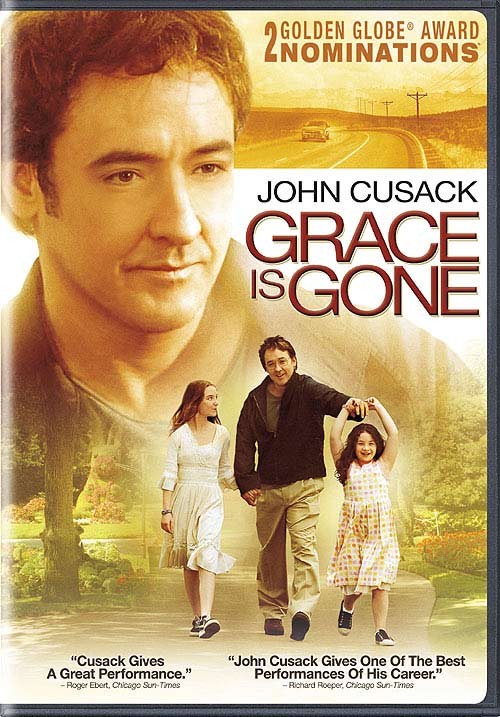 About Genius Products: Genius Products, Inc. (OTCBB:GNPI), along with The Weinstein Company Holdings LLC, together owns Genius Products, LLC, a leading independent home-entertainment distribution company that produces, licenses and distributes a valuable library of motion pictures, television programming, family, lifestyle and trend entertainment on DVD and other emerging platforms through its expansive network of retailers throughout the U.S. Genius handles the distribution, marketing and sales for such brands as Animal Planet, Asia Extreme(TM), Discovery Kids(TM), Dragon Dynasty(TM), Dimension Films(TM), Entertainment Rights group companies (Entertainment Rights, Classic Media and Big Idea), ESPN®, IFC®, RHI Entertainment(TM), Sesame Workshop®, TLC, The Weinstein Company® and WWE®. Genius Products, Inc. is the managing member of Genius Products, LLC, in which it holds a 30% equity interest.
About The Weinstein Company: The Weinstein Company was created by Bob and Harvey Weinstein, the brothers who founded Miramax Films Corp. in 1979. TWC is a multi-media company that officially launched on October 1, 2005. Dimension Films, the genre label that was founded in 1993 by Bob Weinstein, is also included under TWC banner. The Weinsteins are actively working on the production, development and acquisition of projects for TWC.