John Cusack Joins Occupy Wall Street Protest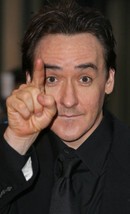 Actor John Cusack has followed in the footsteps of Susan Sarandon and Tim Robbins by supporting New York City protesters taking part in a rally against social inequality.

The Being John Malkovich star joined hundreds of campaigners in the ongoing Occupy Wall Street march calling for an end to corporate greed and equality for all.
 
Cusack noticed one young woman proclaiming to be wealthy and holding a sign which declared, "I have had health and dental insurance all my life. I want to live in a world where we all have enough. I have more than enough. Tax me! Rich kid for redistribution."

Linking to a picture of the protester, the actor told his Twitter.com followers on Tuesday, "Was at occupy wall street - Is this fact or fiction...... reality ...... if it were real, it would be awesome....but who knows?"