John Cusack, Edgar Allen Poe Tale 'The Raven' Getting Poor Reviews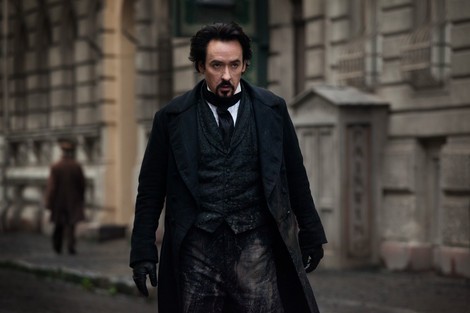 John Cusack stars as legendary mystery writer Edgar Allan Poe in The Raven, which opens in theaters tomorrow, and so far the reviews of the film are tell-tale signs that point to it being a disappointment.

The film reportedly takes place in the week before Poe's death, when a series of murders lead to the writer joining with a Baltimore detective to stop a psychotic serial killer who is using Poe's classic tales of the macabre to carry out a series of gruesome murders.

And so far the reviews aren't too good.

"Cusack makes a terrible Poe," says David Germain of the Associated Press, who also refers to the film as a "pile of cinematic bird poo."

Joe Neumaier, of the New York Daily News, says the film is "ridiculous", calling it a "wannabe Sherlockian thriller" that is "like a night spent at Madame Tussauds, watching mannequins strangle other mannequins."

Ouch!

While 86% of the users on movie review website Rotten Tomatoes are excited about the film and want to see it, 80% of the reviews the site has gathered for the film are negative reviews.

Chicago Sun-Times critic Rober Ebert calls the film "a feverish costume thriller [that] attempts to explain Poe's death by cobbling together spare parts from thrillers about serial killers."

Even the "good" reviews on the site lack in enthusiasm though. Philip French of UK site The Observer calls The Raven "a moderately entertaining thriller"; and the Seattle Times' Moira MacDonald says, "While I can't really defend this "Raven" as a good movie, I nonetheless enjoyed it."

Ironically, the film was co-written by someone named Shakespeare - Hannah Shakespeare, whose story with co-screenwriter Ben Livingston hits theaters Friday, April 27.
Go see it at your own risk.