John Cusack & Amanda Peet Star In 'Martian Child' On DVD Feb 12

Discover the magical world of a little boy whose universe collides with a very special family in the poignant film,
Martian Child
, arriving on DVD on February 12, 2008, from New Line Home Entertainment.
Based on the award-winning short story, the film follows David, a recently widowed man (
John Cusack
; (
Say Anything
,
High Fidelity
) who hopes to adopt a fragile young boy, who believes he is from Mars. Undeterred by the special emotional needs of the boy, David quickly accepts the child's differences and the two learn how to open their hearts and embrace the power of love.
The ensemble cast includes
Amanda Peet
(
The Whole Ten Yards
,
Something's Gotta Give
),
Joan Cusack
(
Toy Story II
,
School of Rock
),
Oliver Platt
(Doctor Dolittle, The Three Musketeers),
Anjelica Huston
(
Ever After
,
The Addams Family
) and Bobby Coleman (
Must Love Dogs
,
Friends with Money
) as the Martian Child. The DVD edition will include a producer and writer commentary, a never-before-seen, behind-the-scenes look at working with a child star and "The Real Martian Child" featurette.
John Cusack stars in this "inspirational and uplifting journey" (
Cynthia Wickenkamp, Starz Entertainment
) as a lonely science-fiction writer who adopts a boy who claims to be from Mars. With the help of his quirky friend (Amanda Peet) and his sister (Joan Cusack), this new father discovers that being a parent means anything is possible.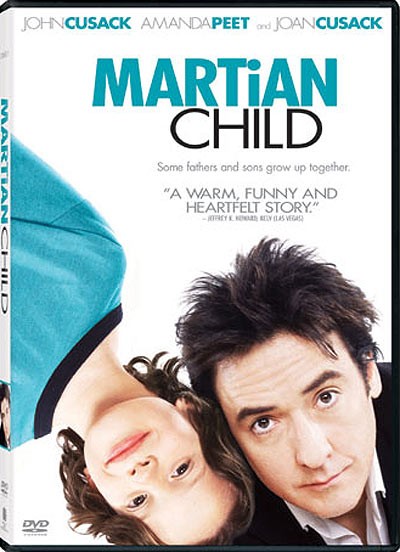 DVD Special Features*
• Audio commentary with producers Corey Sienega and David Kirschner as well as writers Seth Bass and Jonathan Tolins
• "Handle With Care: Working with The Martian Child" documentary
• "The Real Martian Child" featurette
• Deleted scenes
• Theatrical trailer
• 16x9 widescreen (2.35) version of the film
• English Dolby Digital 5.1
• English 2.0 Stereo Surround
• Spanish subtitles
• Closed captions
*D
VD special features subject to change.
ABOUT NEW LINE HOME ENTERTAINMENT/NEW LINE CINEMA:New Line Home Entertainment distributes New Line Cinema theatrical films on DVD, including the premium DVD brand infinifilm™. The Company also distributes feature films and non-theatrical programs acquired or produced by New Line Home Entertainment and New Line Television. Founded almost 40 years ago, New Line Cinema is the most successful independent film company in the world. Its mission is to produce innovative, popular and profitable entertainment in the best creative environment. In addition to the production, marketing and distribution of theatrical motion pictures, the fully-integrated studio has divisions devoted to home entertainment, television, music, theater, merchandising and an international unit. In 2005, New Line partnered with HBO to form Picturehouse, a new theatrical distribution company to release independent films. A pioneer in franchise filmmaking, New Line's Oscar-winning The Lord of the Rings trilogy is one of the most successful film franchises in history. New Line is a division of Time Warner, Inc.