John Barrowman: Master of the Universe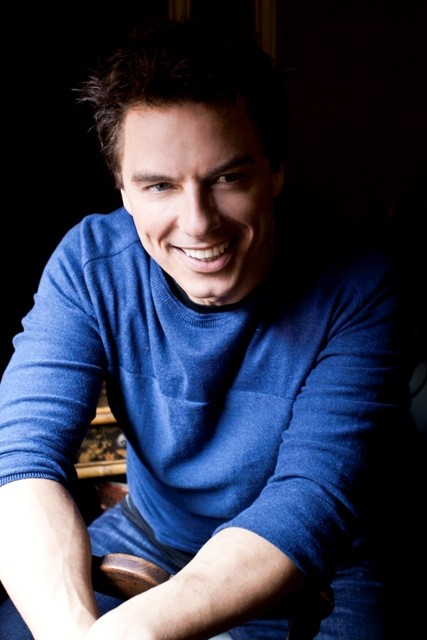 John Barrowman is best known for his heroics across space and time as Captain Jack Harkness on Doctor Who and Torchwood. But if that's all you know him from, you don't know half of the story. A multi-talented performer for more than 20 years, able to thrill and inspire and even sing, he's well on his way to the top of the acting universe, if he's not already there.
On Arrow, you know him as Malcolm Merlyn, alias "The Dark Archer," a high-ranking member of an enigmatic organization who also happens to be the father of Oliver Queen's best friend Tommy. But, as John points out, to categorize Malcolm as simply a villain would be a mistake. "I don't see him as being a bad guy," he explains. "He's an antihero. A very, very, very troubled hero. He's doing the same thing that Oliver's doing, but just going about it very differently. You will come to find out something about Malcolm later on, and it might make audiences go 'He's not that bad.'"
Malcolm is typical of the characters you'll find on John's resume. When he inhabits a person, they are not ever simple black and white, even if the role starts out that way on paper. Instead, his villains retain at least some measure of humanity, his heroes are not always heroic, and his background players still somehow pop even though he might only have a handful of lines. Whereas critics, some other actors, and even fans sometimes try to fit characters into easily definable boxes, John seems to thrive on all the ill-fitting corners and loose ends.
His body of work is so diverse that it would be enough for two actors. John may not have exploded into cult popularity until Doctor Who in 2005, but his name has carried weight in entertainment for decades. The story of his career started in 1989 in London's West End, and his theater history is rich. He's appeared in shows like Anything Goes, Company, Beauty and the Beast, Godspell, the stage version of Aaron Sorkin's A Few Good Men, and a 2009 revival of La Cage Aux Folles that vastly outshone its American counterpart. He was also nominated for an Olivier Award in 1998 for his performance in The Fix.
In the UK, he made a name for himself as both an actor and television presenter. There were the roles in both comedy (My Family) and drama (Hotel Babylon), but he also hosted everything from children's programs to morning chat shows and primetime game shows. As memorable as the characters he played were, he was doing something most actors can't or don't get the opportunity to: establishing himself as an equally prominent and legitimate line on the resume.