John Barrowman: Master of the Universe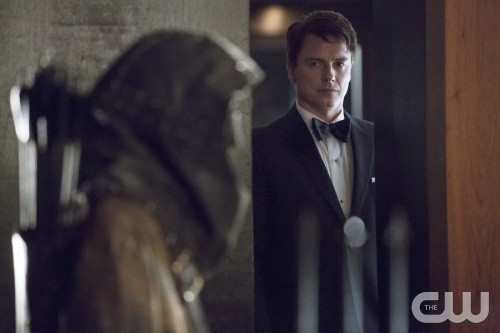 That would be more than enough for most people, but John also had opportunities in the United States. His stateside TV career began well before Captain Jack, with leading roles on a pair of primetime soaps, CBS's Central Park West (1995-1996) and NBC's Titans (2000). Rather infamously, he auditioned for the role of Will Truman on NBC's Will and Grace, but lost the part to Eric McCormack, who found fame and an Emmy Award with it. By the time American audiences caught on to Doctor Who and Torchwood, it was a full decade after John had first started in television.
There's no shortage of John on our TV's of recent. He's hoping to return to Arrow when the CW drama's second season begins filming in July. Before Arrow, it was Desperate Housewives, where he played the unhinged Patrick Logan. He recently wrapped an episode of Scandal that he's sworn to secrecy about, having previously worked with Shonda Rhimes on a pilot that didn't go to series. And there's also something else in the works. "I've got another project I'm doing with ABC Television which we're sorting out at the moment," he confides.
With all that happening, it might seem like John's the next big thing on the small screen, but that would be underestimating him. He's not a new quantity - we've just finally figured out where to look.
"A lot of American audiences only know me as Captain Jack. They don't know that I did sixteen years of musical theater prior to that, that I've done about eight to ten shows on the BBC that've been the most popular the BBC have had, I've done entertainment shows, I've starred in comedy shows, all sorts of things," he reflects, but he's also quick to point out that he doesn't think the lack of awareness has hindered his career, adding that "The fans are diverse enough that they go along with the diversity that I have in my career. They're happy to go on this kind of journey with me."
And what a journey it has been. John has had some sort of presence in almost every genre across almost every medium entertainment has to offer. He's found success on stage, in TV, on reality TV (winning the 2010 Christmas special of Strictly Come Dancing, the BBC's precursor to Dancing with the Stars), on film (recently appearing in Kathryn Bigelow's Oscar-nominated Zero Dark Thirty), and even on the radio. Then there's his two autobiographies, Anything Goes and I Am What I Am, plus his fiction writing, and a whole separate career as a singer. If you somehow haven't heard John's amazing vocals, look below for the music video for "What About Us?" from his Music Music Music album.
Not only the size of his career but also the quality of all these various ventures naturally prompts two questions: if there's anything he can't do - and why, with such a strong resume, he isn't much more famous. On the first count, we wouldn't bet against him. The second isn't something John wastes any time thinking about.