Johann Urb Talks '2012,' 'Eastwick,' And What It Was Like Playing A Gay 'Porn Star'

We chatted with
Johann Urb
, star of "
Eastwick
" and "
2012
," and found his view on life fascinating. Originally from Estonia, we discussed his roots and interests, his movie and TV work, but somehow we often went off on a tangent that we think you will enjoy as much as we did.
I watched "Eastwick" so I could get a glimpse of you before the interview. You were such a Clark Kent.
Oh, thank you! I get a lot of that. When we were shooting the pilot,
Lindsay Price
's mom came to visit and she goes, "You look like Superman blond." So that's my nickname. I think it's kind of funny.
Are you done for this season?
We're still in the midst of shooting. We're having lots of fun. It's a great set. It's a real pleasure to go to work.
Everyone gets along well?
Yeah. Everyone's great and happy to be there. Hopefully that comes across.
It does. How many episodes will there be total?
There will be 13 for now and hopefully more later. We will find out in a couple more episodes.
I read that the series may be going "darker."
We definitely have talked about that and when we shot the pilot we didn't know what time it would be on, so now we know it's 10 p.m. Maggie Freidman (creator/producer) has definitely spoken about that. We might go darker, sexier, riskier and so forth.
I think that would be a good thing.
I think so, too.
Maybe they will make you more of a Superman than a Clark Kent.
(laughs) Well, we'll find out. So far I'm just a really good guy in the first couple of episodes. So maybe I will get to put on my fireman outfit (I'm also a volunteer fireman.)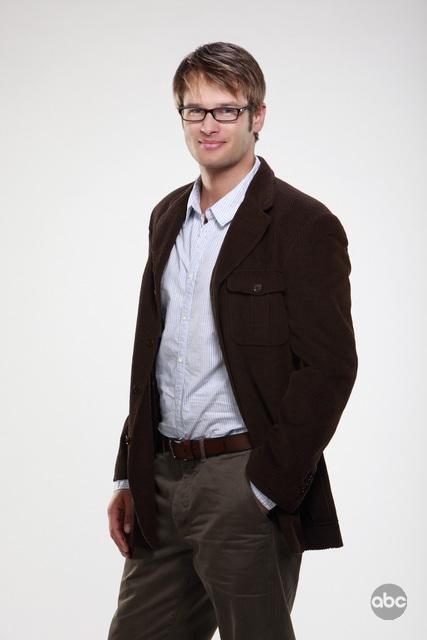 Image © American Broadcasting Inc.
Are you like your character in "real" life?
I think that I am definitely a better guy on the show than I am in real life. My sense of humor comes from northeastern Europe. It's dark and sarcastic. Will (St. David) is a lot lighter, always leading with his heart. He's less playful and more straight up. He gets hurt more and is more vulnerable.
You've been busy this year. You also made a movie.
"
2012
" is coming out November 13. It's a blast. I saw it recently and was very proud of it. It's an amazing film. It's a crazy action film with great acting and story. I think people will really enjoy it.
It's apocalyptic, isn't it?
It is. It talks about the time when the Mayan calendar ends December 21, 2012. Nostradamus spoke about that time. Astrologically there is an alignment of the planets and the stars that happens and there is a lot of talk about cosmic energy causing a lot of upheavals on the planet. It's a great part for me because I have always been into that kind of stuff. I love history and other cultures.
Tell us about your character.
I play a private pilot for a Russian. He's bought these tickets on these ships that are going to make it through this evil, carrying a bunch of people around to try to survive the end of the world. I get to step up to the plate and save myself or save these people and be a hero. It's a very cool part. I can't give too much of the story without giving it away.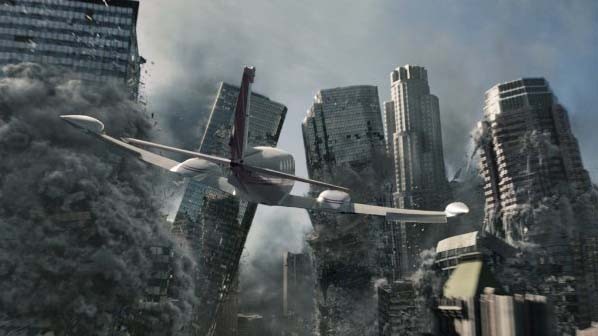 Image © Sony
You were born in Estonia and moved to Finland in your teens?
I moved there with my mom and then came to the States when I was 17.
Did Mom come, too?
No, I came to visit my dad who had moved here with my uncle. They defected from the Soviet Union and got political asylum. My dad spent years in jail and mental asylums because he had a band in Estonia and was singing about a lot of stuff that the KGB wasn't too happy about.
I came to visit and stayed for a month, really loved it, and I came back when I was 17. I was supposed to visit again but at the end of the trip, my dad asked me if I wanted to stay here. It was like, "Hell, yeah!" The States have always been home. It's the strangest feeling. The first time I got here, when I landed in LA, before I got off the plane, I knew that I was home. It's where I feel I belong.
I understand that your dad (Tarmo Urb) is an actor.
My dad has done some acting. I actually put him in a film that I produced ("Pornstar") and he did some in Estonia. My uncle (Toomas Urb) is the big actor in the family. He was quite the star.
Are you a US citizen?
I am.
Congratulations! When you first got here you did some modeling?
Yeah, when I first moved here, I was discovered. I moved to New York and got in on a pretty high level. I was 17 and doing big campaigns and traveling the world. Coming out of Finland, I didn't know I was considered "good looking," but I was loving the fact that I had the ability to travel the world, make money and meet people. It was a wonderful time in my life.
Did you say that you didn't know you were good looking until you got here?
(laughs)
(laughs) No! In Finland, I look like everybody else, and when I got here people said you are blond and blue-eyed and that's so different. I said, "What? Everybody's blond and blue-eyed where I come from."
Do you still model?
Every now and then, if someone calls me up with a great job and it's something that I want to do, I might still do it. But it's miniscule compared to what it used to be.
It must pay better.
It depends. Being a series regular isn't a bad business, but if as an actor you are only doing guest roles here and there, you can make the same money that you do in a week just in a day.
Tell us more about "Pornstar."
I want to start out talking about "Strickly Sexual" because that's where Stevie (Long) and I met. It's a movie that I am really proud of and came out about a year ago. It's the number one movie on Hulu and Amazon. I highly recommend it if you haven't seen it. It's a great romantic comedy and sweet. Stevie and I formed a company to make a movie together and that's how "Pornstar" was born. I co-produced and acted in it. It's a trip. It's a tragic story with lots of humor, is jarring and leaves you with an interesting feeling afterwards.
I will put them both in my queue.
I don't think you can get "Pornstar" yet. We are dealing with some of the finalized stuff like distributers and some music. It was supposed to be released in November but I think it will be a couple more months.
You had a really great name in that film. What was it?
Cannon Balls (laughs.)
(laughs)
That was it. Really good.
Thank you. I really enjoyed playing him. Playing a gay porn star as a straight is quite interesting. The research I got to do on that and wear that character skin was very interesting, just getting into the mindspace of someone like that. That's why I love my job. I really get to explore reality through other people's eyes. As an actor, you can't judge anything. As a character you try to understand the world the way they do and I love that.
How do you do that? I mean, if you are heterosexual and want to have the mindset of someone homosexual?
I think that a lot of those gay porn stars that are straight say that they just work. They have girlfriends, kids and family and that's how they make money. Our minds are meaning-making machines if we have to compensate or if something is missing. I don't know if you are into NLP (nuero linguistic programming,) but it's really facsinating cause our brains work so simply, we have to make up stories or if it doesn't fit, make it fit.
If that's how you decide to see the world, then that's how the world is for you. We all think that the way the we view the world is right, of course. Alfred Korzybski said, "The map is not the territory" meaning that you and I can look at the exact same thing and see something completely different because our understanding and our past experiences are different.
And Marshall Mcluhan said, "The meaning is the message." I find it amazing that some actors can get into their characters so much that they become them.
It's wonderful, because if you can change that energy about yourself and let go. It lets you get out of your own static way of thinking. That's why acting is so much fun, when it's not "heady." When you are not just trying to comply with the script and make it work, you can explore.
Is "Pornstar" only about gay porn?
No, I am the only character in it who is remotely gay, except I am not gay, that's what I do for work. The movie revolves around a guy who is a mechanic and he falls in love with this beautiful porn star. He gets thrown into "Porn World," all the partying, sex, orgies and drugs. Then he uncovers what is underneath it and what they are running away from with all these parties and drugs. It's interesting but tragic and explores the "dark secrets," if you will, of people and why certain things happen.
Do you prefer TV or film?
I don't really have a preference. You prepare differently, they are different speeds. TV is quicker and you don't always get as many takes. When you do film, you get to explore a little bit more. You see a story from beginning to end and know where you are going. In TV you don't know what the next episode holds for you. All these things are a mystery that keeps you playing in the moment. In film, when you show up for work, you might be shooting the end of the movie. It doesn't matter, I enjoy my job.
You have your own MySpace page. Do you also do Facebook and Twitter?
Yes, I do. I don't do Twitter but I have a personal Facebook account for family and friends and started a
public account
. It's a great way to stay in touch because I've lived in so many places, been in different countries in Europe and having traveled all over.
It's funny, having read so much sci-fi, I think we are setting ourselves up in a "higher mind." I think soon our cell phones will be implanted so we can constantly be in touch. I think Twitter is another tweak in that direction.
What's on your playlist?
I got all kinds of stuff. I just went to see
Alice In Chains
a couple of days ago. I have been listening to them since I was a kid. Also
Metallica
,
Krishna Das
, country (
Pat Green
mostly) and the new
Rihanna
album. If I am going to the gym it's heavy metal, if I am in my car I rock out to
Jay-Z
and
Lady Gaga
. I love the new
Black Eyed Peas
album and Electronica. It depends on my mood.
Are you shooting in LA? I saw some outside shots of "Eastwick" that looked like New England.
Yes. They throw in some stock footage. It's great to drive to work and go home and be with my family. I have a couple of little dogs and a great wife.
Does she act?
She's a model and a very talented actor, but she is still figuring out what she wants to do.
Then you two should have gorgeous children.
Thank you. That's what everybody keeps saying but I'm not ready yet. I'm 24 so there is plenty of time.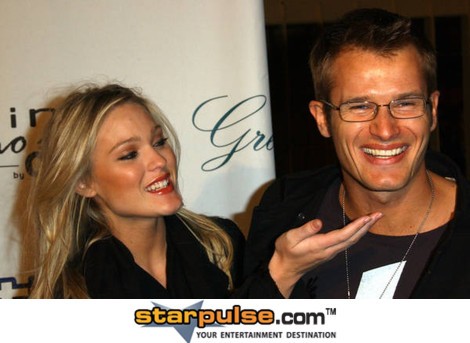 Image © Albert L. Ortega / PR Photos
It's been fun talking to you, Johann. Thanks very much.
Likewise. Take care.
Interview by
Sheila Franklin
Starpulse.com contributing writer