Joel McHale Can't Wait To Meet Natalie Portman At The Independent Spirit Awards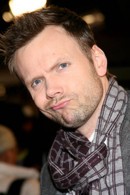 Oscars Shmoscars. There's another awards show before the big night on Sunday. Joel McHale is hosting the Independent Spirit Awards, and he's looking forward to meeting the nominees. Particularly Natalie Portman who impressed him in Black Swan.
"I was taken out of the movie a couple times because like is that really her dancing?" McHale said. "Because if it is, what else can't she do? The jerk… no, because if they were like, 'We want you to be a male dancer in this, Joel' I'd be like mm, there's going to be some injuries and a lot of laughter. I thought how much of it was body double if any and how did they do it?"
As far as hosting duties, McHale joked about preparing with the show's sponsors. "I've been marinating some Piaget watches in a Jameson/Stella combo. And I will suck on that watch on Friday morning and see if that helps."
The Academy made big news by choosing Anne Hathaway and James Franco to host. McHale wants people to know the Spirit Awards gig is jus as big a deal. "how I got picked was they put us into an octagon, with a bunch of other people who wanted the job and it was just my morning."
In all seriousness, McHale is looking forward to Saturday afternoon. "I was just offered it and I was obviously more than happy to take it and I was excited to do it and all those cliches. I can't wait."
And he wishes Franco and Hathaway the best. "Oh yeah, they're calling me all the time," he joked. "I would be surprised if they knew who I was A. and B. I don't have a phone. No, so they have not contacted me and I think that is a very smart move. I would be like, 'Oh hosting, here's how you should do it!' I have no idea."
The Independent Spirit Awards air Saturday at 10PM on IFC.