Joel McHale And Jim Rash Reveal Details For Season 5 Of 'Community'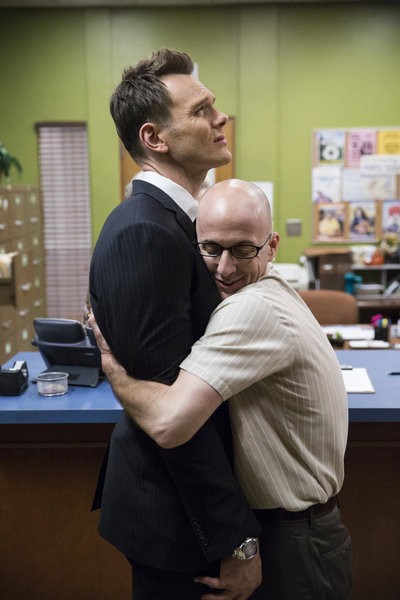 We are less than 2 weeks away from the season premiere of "Community" and boy is everyone pumped. When I say everyone, I mean the cast and fans. After what was a very upsetting season 4, fans are thrilled to hear that changes are coming. Joel McHale and Jim Rash are even more excited to be back and with new jokes, new characters and new storylines. In the midst of their busy promoting schedule, Starpulse had the opportunity to get some exclusive details about the series and what the fans can look out for.
Up first, we have the return of Dan Harmon and his comedic writing back at full force.  As we all know, he was let go of shortly after Season 3 with no news of his return. McHale, after experiencing major changes in working with new show runners, believes that "now that Dan is back…the monarchy has been restored and things are as they should be." To the fans, "Community" is, in a way, Harmon's show. What the fans see is what Harmon has put together in his mind.  So there no doubt that by replacing him, fans would lose interest in a storyline they have religiously followed. "Dan's brain you can't sort of replicate," Rash says. As actors, without Harmon, "you don't really have your sort of guide through that [original vision]."
The New York Times reported that both McHale and Rash talked with Sony and NBC prior to Harmon's return. Rash opted to not take that credit and told Starpulse that it was McHale who "was paramount in starting these ["bring Harmon back"] conversations." Anyone else sense the family bond the cast and crew have off set? 
Harmon is not the only big change the fans will experience in the new season. McHale's character, Jeff Winger, is returning to Greendale Community College as a teacher. "As we've been saying this season, kind of, we re-establish ourselves as characters," McHale reveals in hopes of bringing back the fans post season 4. Whether it be the student or the teacher, "they're both really fun to play." And so, with the season premiere episode being titled "Repilot," the timing is perfect for Winger to transition into a teacher. Winger's new storyline will not only be an exciting change for the fans, but for the new viewers. New viewers can come into this season without needing the past to understand what is going on. It raised "the stakes for our characters," Rash said in reference to the season opener being titled "Repilot."
Something else the fans can look out for is a homage to Logan's Run. There is a scene that "involves choreography that might be the most insane…piece of television I've ever been a part of," McHale recalls. McHale is most excited to see the viewer's reaction to the scene.
Season 5 of "Community" is returning January 2, 2014 on NBC.