Joe Mantegna on 'Criminal Minds' Finale, Revisiting 'Glengarry Glen Ross'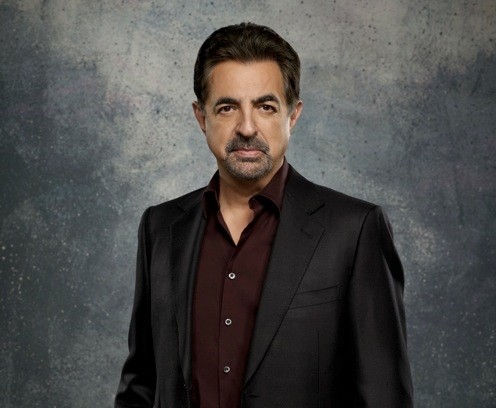 Joe Mantegna is one of the great actors in show business. Whatever the medium or the genre, he always delivers an outstanding performance. On television, he's best known as Special Agent David Rossi on CBS's long-running procedural Criminal Minds. Mantegna joined BFTV yesterday to discuss next week's double-length Criminal Minds season finale and what it's been like for him to bring Rossi to life for the last six years.
"It's a two hour episode," the actor said of Wednesday's final installment. "It's like a little movie in a way. We're able to pull out all stops and devote our energy, our finances and all that for two separate episodes into one, which I think it makes it more exciting. We get some time to explore this thing. We're able to give a proper end to our season. I think it'll be very satisfying."
One of the things the season finale does is put a period on the mystery of "The Replicator," the Unsub that's been stalking the Behavioral Analysis Unit (BAU) team throughout this cycle. It's the latest recurring-villain plot for Criminal Minds, and Mantegna told us, "I think we've done a good job of kind of playing both sides of that street. We're certainly not like a soap opera, where it's continual story that you kind of have to tap in every week.
"For the most part, probably 80 percent if not more of what we do are stand-alone episodes and I think that's a good thing. That's what really happens in life and in a situation with a unit like this. There's a crime, there's killers that have to be apprehended, and you find them. But there are instances where things go on. I think it's a balance. I think the reason I like it is if you catch the show in reruns, people can just tune in and still get a pretty good idea what the show's about."
Looking back on season eight, the actor singled out the episode "The Fallen," which delved into Rossi's past in the United States Marine Corps, as his point of pride. "It's an episode I'd been pushing for for two years," he explained. "I personally have a strong support for our US military and I thought it'd be nice if we could incorporate a storyline that deals with it. The episode was co-written by my assistant Dan [Ramm] and Rick Dunkle, and I was so happy for that episode."
Mantegna was particularly pleased with the fact that the episode included Rossi taking his former Marine Corps sergeant, Harrison Scott (played by Meshach Taylor), to New Directions, which provides a variety of services for veterans from substance abuse treatment to job training and placement."That place does exist on the grounds of the VA Hospital here in Los Angeles," he continued. "We were able to almost do a PSA for an organization that does such good work." For more information on New Directions, you can visit their website.
Taylor also appeared with Mantegna in David Mamet's 1987 film adaptation of his play House of Games, and this weekend, Mantegna is returning to headline another Mamet play for L.A. Theatre Works. "I'm doing Glengarry Glen Ross, which is a play I did the original production of on Broadway in 1984 and won a Tony Award for the role," explained the actor, who stars as fast-talking real-estate agent Ricky Roma. "I'm doing it with Richard Dreyfuss, Gordon Clapp, and Richard Schiff. It'll run through this Sunday at UCLA. It's like stepping back into my career." You can get tickets for the limited engagement by clicking here.
To those who like their TV on the comedic side, Mantegna is also well-known for his recurring role as mobster Marion Anthony "Fat Tony" D'Amico on The Simpsons, having been called one of the animated series' best guests. Both The Simpsons and Criminal Minds are endlessly rerun, widely viewed hit shows, so which role does Mantegna get recognized more for: Fat Tony or David Rossi? "It really is both," he told us. "Criminal Minds and The Simpsons are both very popular worldwide. That's the power of television. You're out there reaching literally millions of people every night."
Yet the veteran actor, who's been working for more than 40 years, has definitely found a home on Criminal Minds, which was recently renewed for a ninth season. "This will be the end of my sixth year," reflected Mantegna, who previously starred in two other dramas for CBS, First Monday and Joan of Arcadia. "And because of that, it's given me the opportunity to do well over a hundred episodes, amost 150 episodes. It's a unique kind of privilege one gets as an actor to delve into the character that long."
"I was careful to make a character who was not so much a departure from who I am," he continued. "I wanted him to be Italian-American, to have an urban background, to have an affinity for the military, to have all these aspects I could relate to personally so I could tap into those things. David Rossi's certainly different than Joe Mantegna, but I think I'm able to bring a good chunk of who I am into who David Rossi is." As Criminal Minds remains one of the Eye network's major properties, television viewers ought to be able to enjoy more of Rossi - and more of the acting brilliance that is Joe Mantegna - for awhile to come.
Glengarry Glen Ross is playing at UCLA through Sunday, May 19; you can get more information and tickets at the L.A. Theater Works website. The Criminal Minds season eight finale airs this coming Wednesday, May 22 on CBS. You can also follow Joe Mantegna on Twitter (@JoeMantegna).
(c)2013 Brittany Frederick. Appears at Starpulse with permission. All rights reserved. No reproduction permitted. Visit my official website and follow me on Twitter at @tvbrittanyf.