Joe Manganiello On 'True Blood' & Playing Big D**k Richie In 'Magic Mike'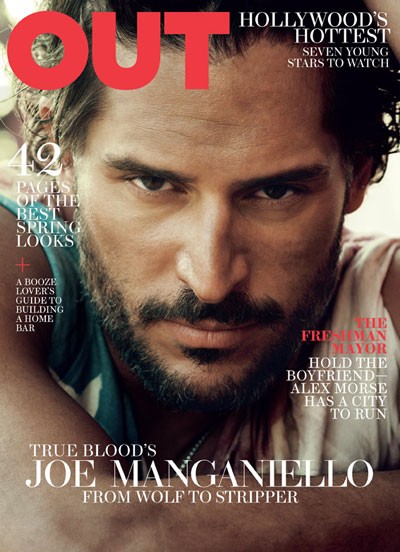 As Joe Manganiello prepares for "True Blood's" new season and his upcoming film, "Magic Mike" (both out this summer), the actor talked to OUT magazine about his awkward high school years and taking it all off for the camera.

In "Magic Mike," in which he costars with Channing Tatum, Matthew McConaughey, Alex Pettyfer, and Matt Bomer,  Manganiello interviewed a former male stripper to research the era.
"All the guys he worked with were dead or in rehab," he says, "But it was the time of his life—this insanely destructive lifestyle, this club life. It was sex, drugs, and rock 'n' roll…and getting paid to take your clothes off and have sex."

In the film Manganiello plays Big Dick Richie. When asked if he stuffed his G-string to live up to the challenging sobriquet, he demurs and answers, "Um, I'll let everybody see the movie and they can decide."

Manganiello is used to shedding his clothes to transform into his "True Blood" persona. The actor views this as pragmatism rather than an extension of show creator Alan Ball's gay sensibility.
"As far as the butt cheeks stuff goes," Manganiello says, "it just makes sense. It's not gratuitous; it's realistic. If you're a werewolf and you transform, you lose everything and there are your butt cheeks. The show is a deconstruction of supernatural creatures. It's not like other werewolf projects, where you magically reappear with tiny jean shorts on."

Manganiello loves his job, and after revealing to a fan that "there's going to be a whole new pack of werewolves on this season," adds that his "True Blood" role really fits his personality.
"It utilizes each part of my eclectic personality. There's the kid who loves monsters, and I can be athletic, but I also love history and I can research wolves and Southern dialects. The dialogue is so rich—it's Tennessee Williams with Chekhovian layers—and that fulfills my bookwormy playwright side. I'm so fortunate. Plus, I get to have a beard all the time," he says.

Read the full Joe Manganiello cover story HERE!