Joe Manganiello Causes 'Twelve Horny Women' On 'HIMYM'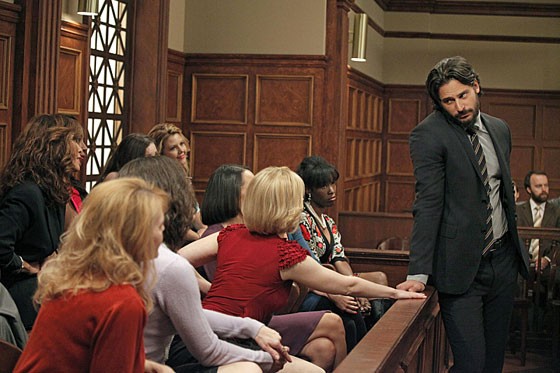 'How I Met Your Mother' returned last night continuing the story arc from last week.  You'll remember that Marshall ran into his old law school buddy Brad, played by Joe Mananiello.  Brad conned Marshall into thinking he needed a job when all he really wanted to do was steal Marshall's firm's strategy for the upcoming case where Brad was defending a pharmaceutical company.  Marshall's boss tells him to win the case or he's fired.
In traditional HIMYM fashion, the story is being told by someone at a later point in time, but this time it is Marshall.  We find Marshall telling the story of the trial to a board of judges.  Brad had more tricks up his sleeve.  He selected an all female jury, and started flirting with them to win them over.  When Marshall objects to the male judge, it is clear that he is attracted to Brad as well. 
Marshall decides he has to do something to regain the jury's attention, and brings in his actual duckling from the lake that was polluted by Gruber Pharmaceuticals.  Just when Marshall thinks he has won back the affections of the jury, Brad strikes again.  He shows a video of him swimming in the lake and showing of his bod to prove that the lake is harmless. 
Just when all hopes seems lost, Marshall notices Brad looking itchy and scratching himself.  Marshall asks to call Brad to the stand.  "This is highly irregular," says the judge.  Marshall states, "I want to ask him to take his shirt off."  "I'll allow it," he replies.  Brad takes his shirt off to reveal that he has acute dermatitis from swimming in the lake. 
Suddenly, Marshall has all of the evidence he needs.  The jury finds Gruber guilty.  It becomes a hollow victory, however, when the judge rules on a fine of only $25,000.  At least Marshall gets to keep his job.  Afterwards, Brad tracks down Marshall and says that he's done working for the bad guys.  He wants to make it up to him, but Marshall is reluctant.  Then Brad says that he scheduled a brunch reservation for the two of them tomorrow, and Marshall can't resist. 
With so much focus on Ted, Barney, and Robin this season, it was fun for Marshall to get a story arc here over the last two weeks.   In a final scene, it turns out that Marshall was in front of that board of judges to throw his hat into the ring for a judgeship, and that this case is what made him want to be a judge.  There was also an amusing side plot about the gang all bragging about what delinquents they all were when they were younger, but of course they were all exaggerating.  They did come back to Barney and Robin for a moment at the end, where Barney tells Robin he is done chasing after her.  Robin says, "Oh," perhaps realizing in that moment what she really wants.
I thought this episode was a pretty good break from all the relationship drama.  There were a lot of great callbacks.  Brad says that he suited up and started to lie to get what he wants, a clear reference to Barney's transformation in "Game Night."  We had the return of Scooter, Lily's high school boyfriend in a flashback (possible continuity error when Scooter says his real name is Jeff, since he said it was Bill back in season two).  We also got another look at Robin Sparkles, Robin's teen pop star alter ego from back in the day in Canada.  It was the first episode credit for staff writer Eric Falconer. 
The legend continues Monday at 8/7c on CBS when Robin reportedly finally realizes she wants to be with Barney.