Joe Jonas' Videomakers Slam Plagiarism Claims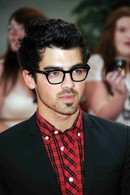 The makers of Joe Jonas' new video have hit back at accusations they stole ideas for the promo from indie film For Lovers Only, insisting they had "never heard" of the movie until the complaint.
 
Writer/actor Mark Polish and his director brother Michael are convinced Jonas used themes from their 2010 film in the video for his latest single, Just In Love, which shows him roaming around Paris, France with French model Angele Sassy.

Mark was angry the singer and the video's director, Jaci Judelson, did not give them a credit, saying, "It's very disheartening that a fellow director would go to those lengths to copy For Lovers Only and not credit us. If they had said our film was their inspiration, we would have been flattered."

Kim Dellara, an executive producer at HSI Productions, which made the video, has defended Jonas, insisting the theme is consistent with the work of Judelson, who has lived in Paris for 20 years.

In a post on the company's Facebook page, she writes, "We've received considerable interest in the music video for Joe Jonas' single, Just in Love and it is apparently being compared to a film called For Lovers Only.

"Until yesterday we had never heard of the independent film, but judging from the trailer online it is clear both the video and the film are set in Paris and shared inspiration from French 60's New Wave cinema. Each of the films includes situations that are universal in love stories of this genre.

"We take exception to the notion that the video in any way infringed upon the content of the film in question. Jaci Judelson is known for a unique and large body of work that pre-dates this film by several years and this video is consistent with the style and content of her previous work. The concept for Just in Love was inspired and driven by the lyrics of the song and by its director having lived in Paris for nearly 20 years."