Joe Jonas Is Ready For His Solo Career: 'I Wanna Go Play My Music In A Club'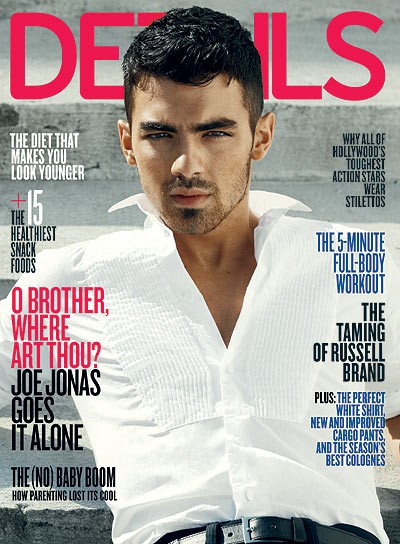 Joe Jonas is ready to move on from brothers Kevin and Nick and embark on a solo career. He says the Jonas Brothers are not breaking up, but are "just taking a break"; which he plans to use to try and recapture some of the fan base that grew up on the brothers' music and moved on to expand their musical horizons.

"I really have a hope for the fans that got older and went, 'You know what, I'm really not into the Jonas Brothers anymore,' that I'm able to catch their ear again with my project and they're able to go like, 'Hey, this is cool stuff, I'm happy listening to this, I'm not embarrassed listening to this,'" he says.

Joe's also thrilled at the prospect of playing to newer - older - audiences after touring with the Jonas Brothers. He even questions some of the shows the trio has played - especially the really young crowds.

He says, "We did some things that were like, 'Really?, We're gonna do this? Like, go and play for an elementary school, are you serious?' At the time I was like 17, I wanna go meet girls at high schools.' And now I'm 21. I wanna go play my music in a club."

But can he make it as a solo artist?

For starters, don't expect Joe's music to sound "expected" - a word the singer uses to describe his sound with the Jo Bros.

"I wanted to do something you could hear in a club or something you could dance to," he says, "Something's that's fun - something that's me."

The new album is set to include alot of songs about breakups and the guilt from hurting others in his relationships, but Joe's confident that people will want to hear what he has to say.

Speaking of love, the singer also dishes on his latest love interest - Twilight star Ashley Greene.

"It feels good. I think what works about it is she really puts my feelings first. She understands my busy schedule. She'll fly out to my shows-she's been to places in South America that I can't even pronounce," he says.

Joe Jonas is featured in the April issue of DETAILS magazine, on sale in New York and LA on March 22 and nationwide on March 29th; but you can read more of his interview here.

Check out Joe's pics from inside the issue here.
Click for more great Jonas Brothers pictures: