Joe Jonas Denies Making Sex Tape With Model Girlfriend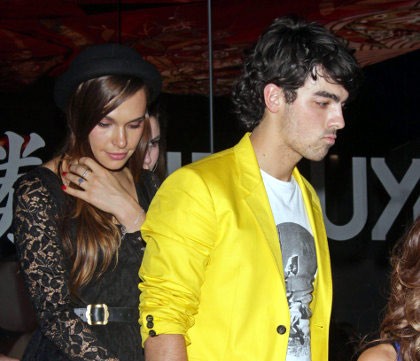 Did singer Joe Jonas make a sex tape with his girlfriend Blanda Eggenschwiler? His rep says no way.
According to blindgossip.com, the Jonas Brothers star, who years ago wore a purity ring as a symbol of abstinence, was filmed engaging in explicit sex acts, drinking and smoking marijuana with the Swiss-born model.
The sex tape is going to be released next month, according to the website.
However, Jonas' rep told Us Weekly: "There is no truth or validity to the story. It is completely false."
And Jonas, 23, also denied the existence of a tape, writing on Twitter:  "ball gag? really? me? come on guys."
The couple began dating last year. Model/graphic artist Eggenschwiler is based in New York.
Jonas previously dated country pop star Taylor Swift, actress Camilla Belle, and actress Ashley Greene.