Joe and Teresa Giudice Post $500,000 Bond Each, Face 30 Years In Prison For Fraud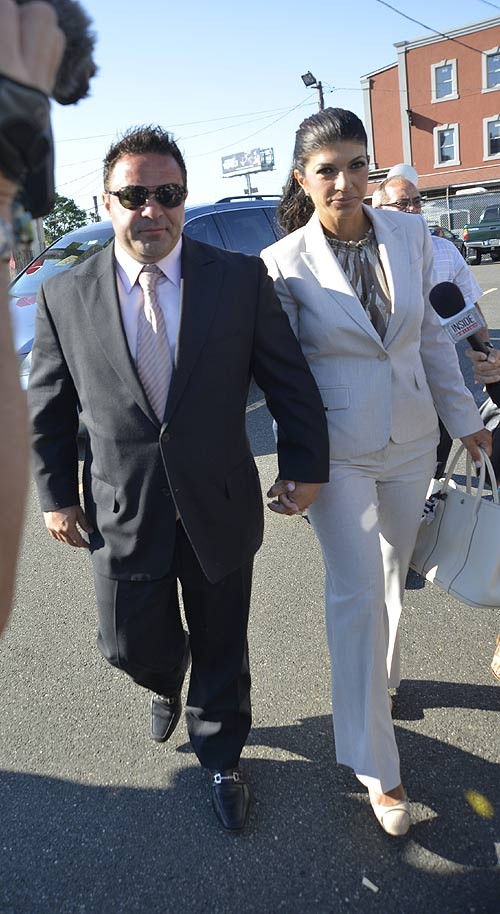 Real Housewives of New Jersey star Teresa Giudice and her husband Giuseppe "Joe" Giudice were indicted on 39 counts of fraud and tax evasion in a New Jersey federal court on Monday.

The couple were each freed on $500,000 bond, according to TMZ.com, and are scheduled for an arraignment hearing on August 14.

Both Teresa and Joe are facing lengthy prison sentences if they're convicted of the charges, which include mail and wire fraud, bank fraud and tax evasion.

The couple allegedly faked documents to secure property loans, failed to declare income in relations to their 2001 bankruptcy, and Joe failed to file tax returns on nearly $1 million in income from 2004-08.

"The indictment returned today alleges the Guidices lied to the bankruptcy court, to the IRS and to a number of banks," said U.S. Attorney Paul Fishman.

The two have been stripped of their passports and Joe could face deportation as he's not a U.S. citizen.

"Everyone has an obligation to tell the truth when dealing with the courts," Fishman added, "paying their taxes and applying for loans or mortgages. That's reality."

If the Giudices are convicted they face up to 30 years in prison each.

"Today is a most difficult day for our family," Teresa said in a statement on Monday. "I support Joe and, as a wonderful husband and father, I know he wants only the best for our lovely daughters and me. I am committed to my family and intend to maintain our lives in the best way possible, which includes continuing my career.

"As a result, I am hopeful that we will resolve this matter with the Government as quickly as possible."