Jodie Foster: 'Fame Is Like Sticking Pins In Your Eyes'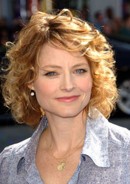 Former child star Jodie Foster is relieved her celebrity status has died down since she first broke into Hollywood, likening fame to "sticking pins in your eyes."
 
The 48-year-old actress started her onscreen career aged just three, and found fame with her Oscar-nominated role as a child prostitute in 1976's Taxi Driver.
 
She has since carved out a successful film career, but maintains a low profile in her private life - and Foster is pleased she's slipped under the radar.
 
She tells Britain's Daily Express, "I think people are kind of 'over' me now. They are more interested in Brad (Pitt) and Angelina (Jolie) and that's just fine. The price you pay for celebrity is like sticking pins in your eyes..."

"I've been working in this business for years and there's no way you can do that and not be as nutty as a fruitcake."