Jocelyn Chew Talks About 'The Face,' Modeling And Team Naomi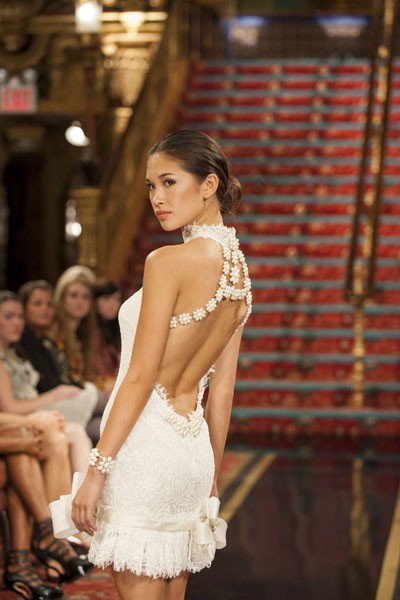 Jocelyn Chew, the 20-year-old half Chinese/half Icelandic beauty hailing from Canada, is one of the few remaining contestants competing on Oxygen's modeling competition series The Face. The series, hosted by Nigel Barker (formerly of America's Next Top Model), follows supermodel coaches Naomi Campbell, Karolina Kurkova and Coco Rocha as their models compete for the chance to become the new face of ULTA Beauty.
I recently caught up with Jocelyn to learn more about her background in modeling, what it's like to work with Naomi Campbell and - more importantly - what's behind her love of sharks.
What inspired you to get into modeling?
I think from a young age I've always been interested in fashion and the magazines. By always just looking at them and the models and everything, I kind of just inspired myself.
What was your first big break or a job that made you really want to pursue modeling as a career?
When I first started modeling I shot for Seventeen magazine. I remember it being a publication that also comes out in Canada (where I'm from) and all my friends and family saw it and it was just like a really cool, inspiring moment that makes you want to push further.
How does it feel to be a part of the contestants on The Face?
It's an honor to be a part of the contestants on The Face, especially being on Team Naomi and also being on the first season. It's an experience that you get to have first hand as the first group of people.
It seems like you've really hit it off with Naomi [Campbell]. What's it like having her as a mentor?
At first it was very intimidating because she's just an intimidating person but once I got to know her it was like a breeze. She's very motherly and genuine so being with her and learning from her was, for one, so inspirational and two a good experience that I could never have imagined I would be doing.
Team Naomi currently has three wins in a row. How does that feel midway through the competition?
It feels really good to have secured three wins, especially in a row and midway into the competition, but at the same time it keeps you on your toes because you know you have to keep performing really well. Everybody knows that at the moment you're the one to beat so you really need to step it up and keep giving it your all.
What can you tell us about this week's upcoming episode?
This coming week we're doing a campaign where we shoot a short video selling a product. We have to work in teams and choose a product as a team in order to sell it on camera and make everyone want to buy it. (In this week's episode, Jocelyn's team has Louboutin.)
What do you hope to take away from your experience on The Face?
The main thing that I hope to take away from my experience on The Face is just all the advice, especially from Naomi, her being my coach, but also from every mentor and even Nigel [Barker], taking away every tip and every trick and every just little piece of information that they've given to us during the time of filming the show. I think it's really important to remember everything and really take it to heart and use it in my career.
On another note, more on a personal level, you might take the cake for the best Twitter handle (@jocechewbacca). Are you a Star Wars fan at all?
[Laughs] Well my last name is Chew which is kind of random and I knew the Chewbacca character. I do have a Chewbacca backpack that kind of like when you wear it looks like he's piggybacking you, so yeah, I'd say so.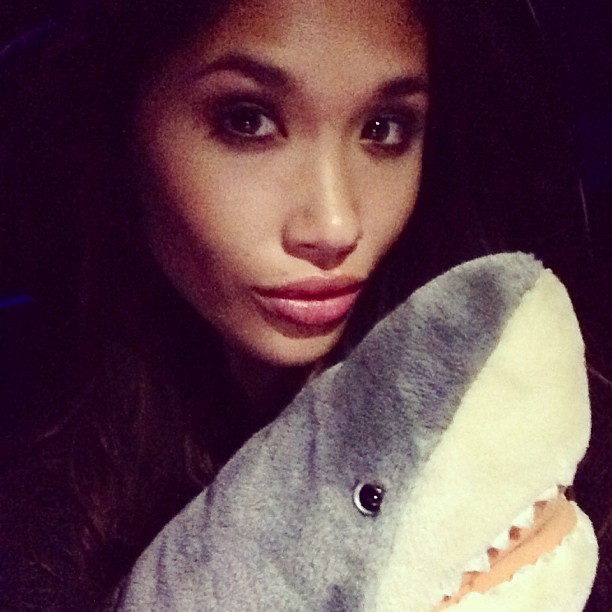 I know you're a big fan of sharks, where did that come from?
I've always been a big fan of sharks and animals in general. I'm a really big animal lover. I'm a vegetarian - "Fish are friends not food" - but the sharks thing kind of came from a nickname that everyone kind of called me (Jaws) and it kind of stemmed from that. And also Finding Nemo was an inspirational shark movie [laughs].
Besides modeling, what are your other passions and what are you really interested in?
Besides modeling my other passions would be fashion, for one, as a whole. I like the entire industry like whether it's planning for a magazine, being a stylist for a magazine, even photographers and everything - I just love the artistic nature of the fashion industry and how you can be creative in any career that you have in the fashion industry. You can be creative writing, taking photographs, being photographed, being a make-up artist, being a stylist. I think it's a free industry and I like that alot. I like the non-structure of it and the ability to create.
I see that you're from Canada. What do you consider to be the biggest difference or adjustment you've had to make between Canada and the US?
I think the biggest adjustment I had to make - and I'm still trying to make - is when I say stuff like "Eh" or "Sorry" or "About." [Laughs] It sounds like I'm not saying it properly. Probably my Canadian accent.
Is there anything else you'd like to share or anything you'd like to say to the readers?
I think that they just better be Team Naomi and tune in every Tuesday!
You can stay connected with Jocelyn on Twitter, Instagram, Facebook, Tumblr and her blog.
The Face airs Tuesdays at 9/8c on Oxygen.