Joanna Krupa & 'The Real Houswives Of Miami' Stars Show Off Their Bikini Bodies In Vegas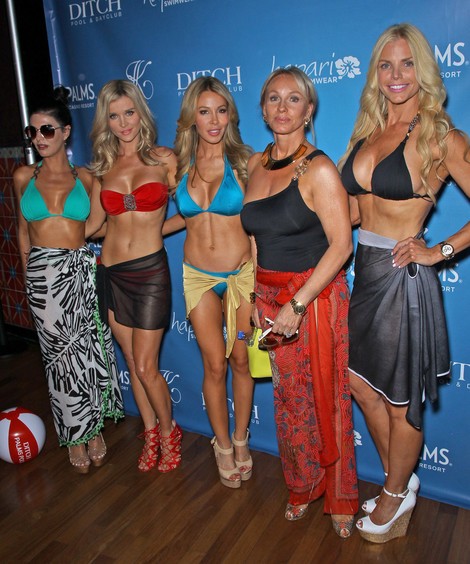 Joanna Krupa and her gal pals from "The Real Housewives of Miami" sizzled in Las Vegas, Nevada, over the weekend. Krupa hosted the signature bikini line launch at "Ditch Saturdays" at Palms Pool wearing a red bandeau bikini top with matching bottoms underneath a sheer black sarong.
The reality star was joined by castmates Alexia Echavarria, Lea Black, Lisa Hochstein and Adriana de Moura, who also modeled some of the swimwear line.
It wasn't just work and no play for Krupa. She was also on a quick getaway prior to her upcoming wedding, which is just a few days off. She tweeted on Saturday: "My ladies having fun for my swimmer(w)ear launch party and bachelorette part 1 lisahochstein les black etc."
Krupa and her fiance Romain Zago, the owner of Miami's Mynt Lounge, plan to wed June 13, and the ceremony will be filmed for the popular Bravo reality show.
Earlier this month, Krupa was photographed topless lounging poolside at her Miami Beach home. She was wearing the same red bikini. That's one way to draw publicity!
See more photos of Joanna on the following pages...