Joanna Krupa Loves Her Butt, Spanks It To Behave

"I like my butt. It's perfectly proportional, it's cute, and it's still where it belongs. It's been behaving so far, and if it doesn't, I can spank it a little bit and put it back in place - just like I do with my men." - Supermodel
Joanna Krupa
tells
Maxim
about her favorite body part.
The 30-year-old Polish beauty appears topless with her hands over her breasts on the cover of the magazine's August 2009 issue. Recently Krupa appeared on the ABC reality show 'The Superstars,' where she was teamed up with football player
Terrell Owens
.
After T.O. messed up one of the challenges the blonde beauty lashed out with an expletive laden rant directed at the NFL star (scroll down to watch the video below).
And she took umbrage with the show's host
Warren Sapp
as well, "He was so arrogant and disrespectful. I think he's frustrated because he used to be in the NFL and now it looks like he's had too many hamburgers."
Check out Joanna's Maxim cover and more hot pics below...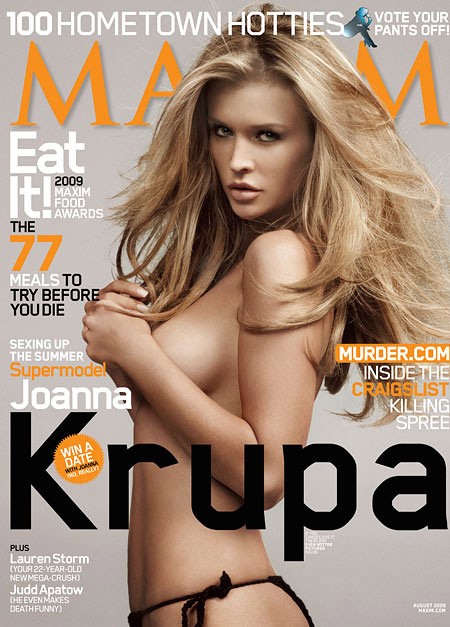 - Click here for more sexy Joanna Krupa pics -






Watch Joanna tear Terrell Owens a new one on 'The Superstars'
Watch Joanna interviewed for Maxim Hot 100 show on E!
Slideshow: 2009 Maxim Hot 100 Top 10 Babes