Joanna Krupa Has An Expiration Date On The Use Of Her Image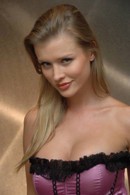 Model-turned-reality TV star Joanna Krupa is suing a New York fashion chain for allegedly using her image to sell products long after the deal's deadline.

The blonde beauty claims her 2009 agreement with Zoe NYC was only good for three months - but the company is still using her image.

In the lawsuit, filed in New York, Krupa states she was paid $1,500 for the original photoshoot; she now she wants in excess of $250,000 for the use of her face and body, according to TMZ.com.