Joanna Garcia To Spend Honeymoon In Afghanistan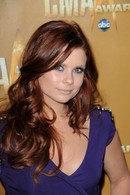 Newlywed actress Joanna Garcia and her husband Nick Swisher are set to embark on an unusual honeymoon - they're flying to Afghanistan to visit American troops.

The former Privileged star and New York Yankees outfielder Swisher wed in December but were too busy to take a romantic honeymoon.

And their first foreign break as husband and wife will take them to the war-torn Middle East once Swisher's season is complete in mid-November.

Swisher tells the New York Post, "We are both really looking forward to visiting the troops. Yes, it isn't a traditional honeymoon, but it is something we both feel strongly about.

"I come from a military family... and no matter what your views are, these men and women are out there risking everything for us. I realize how fortunate I have been, so I like to give back at every opportunity I can."