Joanna Garcia Discusses Her New Show 'Welcome To The Captain'

At last, some relief from bad reality and game shows.
Joanna Garcia
stars in "
Welcome to the Captain
," a new wacky comedy series on CBS, along with Fran Kranz,
Chris Klein
,
Jeffrey Tambor
, and
Raquel Welch
. We talked to Joanna this week and found her to be as bright and fresh as her character on "Captain."
We've just seen the of pilot "Welcome to the Captain." It is a very cute show.
Thank you! I'm excited about it and very proud to be a part of it.
Tell us more about it.
It's kind of a wacky ensemble set in an apartment building. It's a nice backdrop to all these different relationships that we are trying to explore. Our cast is fantastic. We have Jeffrey Tambor and Raquel Welch. I play opposite Fran Kranz in a very cute, awkward love story.
It's definitely different from anything I have ever done. Being on "Reba," a multi-camera show, for 6 years in front of a live studio audience, I know exactly where the comedic beats are supposed to be. It's a different vibe, but one I'm really enjoying.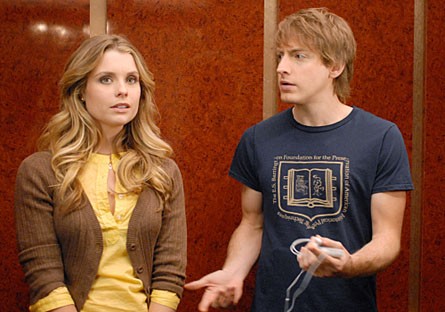 Welcome to the Captain - © CBS Broadcasting
So you're having a good time?
These are amazing people. John Hamburg's (director and writer) work is unreal. He is so talented and I am proud to be a part of his television debut.
Do you get along with the rest of the cast?
I was very scared going into it. A new television show, not knowing exactly what it was going to be like. But it turned out to be so unbelievable and everyone is so great.
It sounds like you all bonded.
We were together 13 hours a day. When you're starting a new show and all trying to rally together and make the most of everything, you tend to bond quite a bit in the beginning. It's really good now.
So there's no ego clashing.
None. It's amazing. Jeffrey Tambor is just so sweet and loving and supportive. Raquel is also awesome. With John being at the helm it's a great experience and a very affable environment. It's a very creative process for me.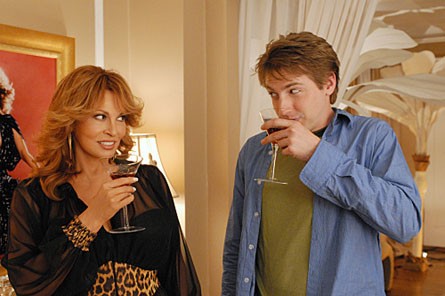 Welcome to the Captain - © CBS Broadcasting
How many episodes have you completed?
We have five in the can and got picked up for seven more, I think. With the writers strike we had to go down so we are waiting to hear. Hopefully, we will have enough ratings for them to ask us for more.
In time, you should develop into a good ensemble group.
The strike was kind of okay for us because it gave us a definite time plot and launch date but then we were sort of taken out of the momentum that we were hoping for. It is a double-edged sword for us. We're dedicated to making this thing work, so we hope to stay on the air long enough to tell a few more stories.
The strike is bad for everyone.
It stinks. But we are supportive in wanting to help out our writers in getting the deal that they want. We are encouraged to hear that soon we may see a deal happening.
The show makes many references to the 70's. Are you old enough to remember them?
I remember "
Three's Company
" and Raquel was an icon at that time and has a bit of a 70's flare to her. I watch reruns also, so I know what's going on.
Do you think that any of the show is based on John Hamburg's life?
I don't know if necessarily it is part of his life. I
do
know the characters are simply based on the residents in the El Royale here in L.A. We used the real building for our pilot. We were filming there all hours of the night and they were so nice.
There is a lady known as the "Cheese Impresario." She did a whole presentation with the "Cheesettes," these hot little girls that served. When you look at the scenes after the "Cheese Fest" we were all slugged because we filled ourselves with the most fantastic cheese. The building was incredibly supportive and kind.
Tell us how you got the part.
I was in the process of meetings for pilots and deciding if I wanted to do TV again after 6 years of "
Reba
," which ended in November. I am a huge fan of John and when I read the script I fell in love. I am so grateful that CBS thought of me as something other than the character of Cheyenne.
With "Reba" we got into such a nice groove. With the launch of the new show, you never know, but there is something to be said for getting a part that you love. I am really fortunate in my career right now that I can only take jobs that I am proud be a part of. You really want people to enjoy it. You never know for sure how well it will be received. I definitely have a big part of my heart invested.
Are you anything like your character Hope?
We're both a little quirky and neurotic. I think that Hope is a little cooler version of me. When it was written I probably wasn't the prototype for the role, but I think that I have brought different qualities to her than were originally a part of it. She was a real New York girl and I love New York and think New York girls are the coolest. I think I have brought some of my energy and a lot of my natural quirk.