Joan Rivers Vs. Chelsea Handler: Joan Knows Best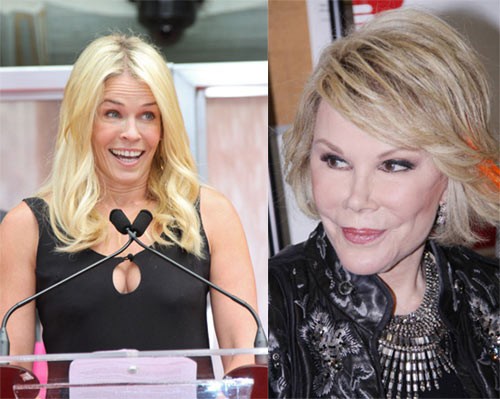 What ever happened to professional courtesy? Must be in the trash with Joan's original face and Chelsea's first bottle of vodka. This week the two E! host and comedienne's bashed each other on 'The Howard Stern Show.' 
Chelsea Handler, host of 'Chelsea Lately' and Executive Producer of NBC's 'Are You There? It's Me Chelsea,' was the first to appear on Monday, Jan. 23. In response to a question from Howard about Joan's early critics of Chelsea, Handler replied, 'Joan Rivers...What the **#! do I care about Joan Rivers?' '**#! off!,' the late night host added.
Never one to back down from a fight, Joan Rivers appeared the following day (Jan. 24) and had a few choice words of her own. The 'Fashion Police' and living legend of comedy had this to say in response, 'She's fine, she ordinary...she's a drunk.'  Following up with, to her daughter Melissa's dismay, that she slept her way to top by dating someone high up in the industry. From Chelsea's own admission on 'Lately', she did date Ted Harbart, CEO of Comcast for over four years. However, the big pet peeve for Joan was the lack of respect. The Red Carpet Queen was appalled when they ran into each other recently at E!'s studio and Rivers says hello while Handler walks by without a word. The final statement from the plastic surgery icon: 'Don't you come after me you whore!'
Chelsea, I'm a big fan, but word to the wise, don't mess with Joan.There are too many red carpet's in your future. Oh, and one other thing, can you stop playing Sloan on 'Are You There? Its Me Chelsea?' You're hysterical as a comedienne, but you're no actress.