Joan Rivers Slams Charlie Sheen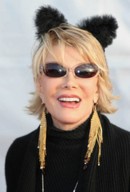 Outspoken comedienne Joan Rivers has blasted Charlie Sheen  for his recent "outrageous" behavior, insisting he should clean up his act for the sake of his children.

Sheen began a rehabilitation program last week shortly after he was hospitalized to treat a "hernia," causing production on his hit TV show Two and A Half Men to be put on hold while he gets clean.
And Rivers admits she is disgusted Sheen can continue his wild ways when he has four children - slamming the star for not giving up booze and drugs when he became a father.

She tells The Advocate, "I think he's an a**. When you have a child, darling, you'd better start setting an example. Childhood for you is over when you have a child. I find it outrageous to be carrying on like that."

I also think that when you get the gold ring you have an obligation. The old studio system made you have an obligation to live a clean life and be the example. What am I going to tell my grandson who watches Two and a Half Men? I just think he's awful."