Joan Rivers Documents Her 734th Cosmetic Surgery On TV Show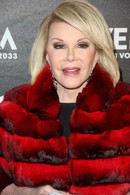 Joan Rivers has shared her love of cosmetic surgery with fans by allowing TV cameras to document her 734th procedure.

The comedienne is famous for overhauling her look by regularly going under the knife and she allowed a camera crew to film her quest for perfection for her reality TV show Joan & Melissa: Joan Knows Best.

Rivers, 78, went without make-up as a surgeon drew lines on her face to see where they would make incisions to "tune up" her neck in what the star claimed was her 734th cosmetic procedure.

The funnywoman's daughter, Melissa, is seen pleading with her mother not to go through with the operation amid fears it could be dangerous because of her advancing years, telling her, "I don't want you to die."

Rivers then quips, "My body is a temple, and my temple needs redecorating."