Joan Rivers' 8 Best Television Moments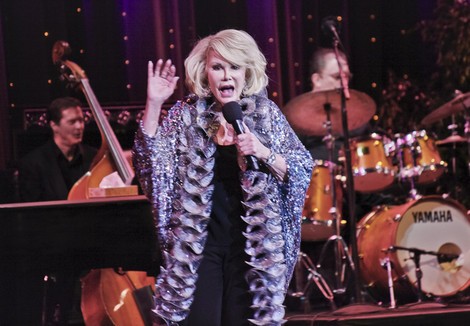 Perhaps one of the greatest female comedienne's ever, Joan Rivers has been entertaining fans with her unique spin on life and love for fifty years. Her tell-it-like-it-is attitude has turned many people off, but even more respect her direct way of thinking. She has inspired a host of female comedienne's and reinvented herself more than any plastic surgeon could. Joan's career has been documented on television since day one, and to honor this legend, we have uncovered 8 of her best television moments of all time. Many are safe, some are NSFW, but all are hilarious! 
1. A Triumphant Return To "The Tonight Show", 2014
After being banned from "The Tonight Show" during both Johnny Carson and Jay Leno's reign, Joan Rivers made a triumphant return to "The Tonight Show With Jimmy Fallon" in 2014. Rivers had gotten her first big break as Carson's permanent guest host in fall of 1983 but left just a few years later to launch her own competing program, Fox's "The Late Show With Joan Rivers", a move that Carson held against her. Said Rivers to The Hollywood Reporter, "Everybody left the show to go to do their own shows. Bill Cosby. David Brenner. George Carlin. Everybody. I stuck around for 18 years. And they finally offered me my own late-night show. The first person I called was Johnny, and he hung up on me and never, ever spoke to me again."
2. Making Her Mark On "The Ed Sullivan Show", 1966
Joan Rivers' first appearance on The Ed Sullivan Show took place on May 22nd 1966. Prior to that appearance, Rivers had been involved in the show as a writer. In fact, she was a writer for the famous Italian mouse puppet Topo Gigio on The Ed Sullivan Show.
Her first stand-up performance on the show came to fruition in large part thanks to a slip of the tongue.  On the previous show Ed Sullivan was supposed to announce singer Johnny Rivers, but instead mistakenly said "Next week, Joan Rivers!" Since she had already been announced, the producers of the show immediately booked her for the following week. Joan Rivers would have undoubtedly been asked to perform on the Sullivan stage eventually, but this slip of the tongue helped launch her career. Little did she know that she would soon become a household name across America.
3. Self-Deprecation On "The Carol Burnett Show", 1974
Said Carol Burnett of her longtime friend, "I have known Joan forever because she was on our show as a guest three times." Joan Rivers appeared on the "Carol Burnett Show" and in the beginning, the audience seemed a bit apprehensive of her raunchy brand of comedy. But by the end of the show, she had them wrapped around her finger.