Joan Jett Sues To Stop The Release Of Runaways Tribute Album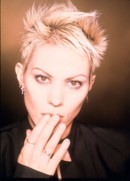 Record label bosses have confirmed The Runaways tribute album at the center of a legal battle is a charity project to raise money for cancer research.

Former band members Joan Jett and Cherie Currie have filed suit against executives of Main Man Records to prevent them from releasing Take It or Leave It: A Tribute to the Queens of Noise, which pays homage to the girl group.

Record label chiefs have now responded to the legal action, insisting they have not been officially notified of the lawsuit, and revealing the record is a charity release to raise money in memory of The Runaways star Sandy West, who died of cancer in 2006.

A statement from Main Man Records reads, "Thirty six bands have donated their recordings of songs to this project, partly in tribute to a band that has influenced and entertained them all, but also with the hope of raising funds for cancer research. The American Institute for Cancer Research are in full support of our efforts and Main Man Records will be donating our net proceeds in memory of Sandy West who lost her battle with the disease in 2006...

"We find it terribly sad that a great, charitable record of rock songs honoring five legends could be deemed possibly sullying anyone's image, and hope that the record will be received by music fans in the spirit in which it was intended."

"Main Man Records has not been contacted, served with a complaint or any legal papers and are not in a position to address these claims, but we will vigorously defend ourselves in this matter."