J.K. Simmons To Lead Geriatric 'Hangover' Cast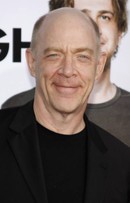 Spider-Man and Juno star J.K. Simmons is set to lead the cast of a new The Hangover-esque movie for seniors.
 
The actor, who played newspaper boss J. Jonah Jameson in all three of Tobey Maguire's webslinger movies, will play a method actor who moves into a residential home to research a character in Geezers.

Co-star Breckin Meyer tells BlogTalkRadio.com, "(He has) to work on an old man character he's about to play... so he moves in. Mayhem ensues with three old guys he meets..."

"It's being described as Cocoon meets Hangover."