Jimmy Kimmel's Uncle Frank Dies At 77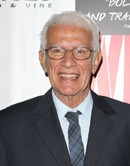 Beloved TV personality Frank Potenza has died at the age of 77.

Potenza has been a regular fixture on his nephew Jimmy Kimmel's late night TV chat show Jimmy Kimmel Live! for years, appearing in comedy skits and interviewing stars on film premiere red carpets.

A retired New York police officer, Potenza graduated from security man to star on the show.

He died on Tuesday morning. Details have not been released.