Jimmy Kimmel Shows Off 14-Foot Statue Of David Hasselhoff Set To Go Under The Hammer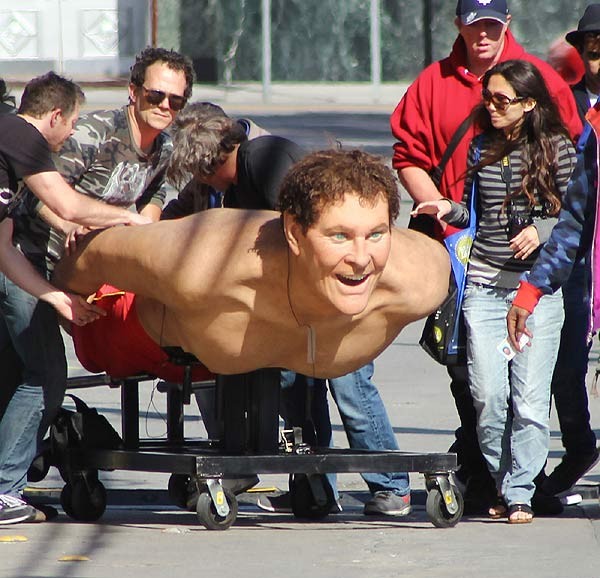 David Hasselhoff is auctioning some of his stuff off to benefit the Starlight Children's Foundation, including a 14-foot long statue of himself dressed in his "Baywatch" costume that was used in the SpongeBob SquarePants Movie.

The statue will be auctioned off, along with several of the Hoff's other items, like the replica of his car "KITT" from the "Knight Rider" TV series, his Harley Davidson motorcycle and a "Baywatch" lifeguard jacket, to benefit the Starlight Children's Foundation next weekend.

Late night talk show host Jimmy Kimmel was able to borrow the statue for his Jimmy Kimmel Live show on Thursday night, and he rode in on its back.

"No you are not high -- or maybe you are, I'd have no way of knowing," Kimmel told the cheering crowd, "yes i did just ride out on a giant david hasselhoff.

"Isn't it incredible?"


Kimmel made several jokes about it, saying thing like, "This enormous Hasselhoff could be yours" and "I would take this statue of David over the statue of David."

He also said he'd love to have it himself, but his wife said no way.

Hasselhoff was the focus of an episode of Lifetime TV series "Celebrity Home Raiders" on March 13, and gave viewers a look at some of the items being auctioned off.