Jimmy Kimmel Reunites Jennifer Aniston, Courteney Cox and Lisa Kudrow For Hilarious 'Friends' Skit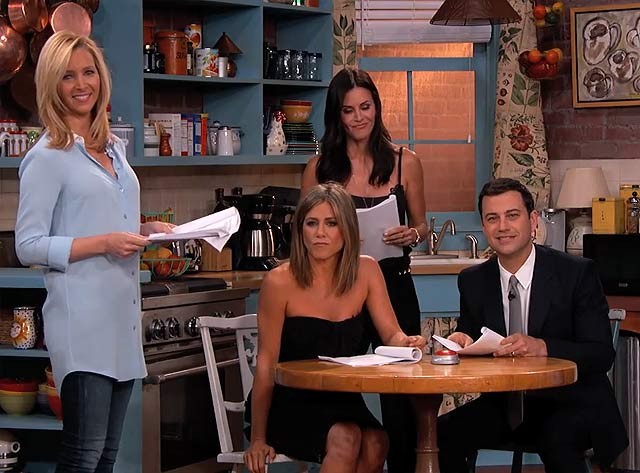 Jimmy Kimmel staged half of a "Friends" reunion on his late night talk show Wednesday night, when he had Jennifer Aniston on as his guest to promote her new film, "Life of Crime."

The host pulled out a pair of scripts he wrote, explained to her what fan fiction is and then asked her to read the scene with him.

The actress reluctantly agreed, at which point the main stage curtain was opened to reveal a full recreation of the hit 90s show's set.

"I actually spent $80,0000 making it," Jimmy told her.

The two sat at the kitchen table and while Aniston got into character as Rachel, Kimmel played Ross and began complaining about their sex life and how they need to make love now.

"This is really dumb," Aniston said of her upcoming lines.

"Is it dumber than living in a huge apartment in New York City for eight years, even though you worked at a coffee shop?" the host replied.

Needless to say, Aniston played along, and shortly after the apartment door opened and Courteney Cox walked in, in character as Monica, while Lisa Kudrow joined shortly after as Phoebe.

The whole scene played out about how awesome "Ross" is in bed and quickly turned to a reading of the show's theme song, "I'll Be There For You," by the Rembrandts.

When asked what happened to Chandler and Joey, "Ross" told the women that they were bitten by his pet monkey Marcel, who turned out to be rabid.

While Aniston was on the show to promote her new film, which is based on a novel by the late Elmore Leonard and features several characters that appeared in "Jackie Brown," the skit was done to mark the 20th anniversary of "Friends."

The show will also be honored in New York City by coffeemakers Eight O'Clock Coffee, which will recreate the Central Perk coffeeshop that the show featured.

Unfortunately the pop-up shop will just be there for a month, but it will feature all the original furniture from the show and show regular James Michael Tyler, who played the shop's barista Gunther, will also be making appearances.

The shop will open on Lafayette Street on September 17.