Jimmy Kimmel Lines Up The Stars For Post-Oscars 'Movie: The Movie' Trailer (Watch!)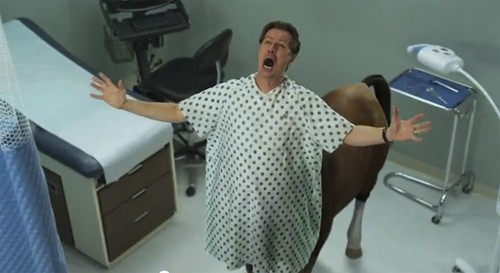 A fake movie trailer stole the spotlight from the Academy Awards last night, thanks to Jimmy Kimmel's ability to line up a cavalcade of stars. 
In the fake teaser, Edward Norton (playing the world's greatest spy) gets married to the President of the United States (Josh Brolin) in a ceremony ordained by Antonio Banderas. 
Colin Farrell is a SWAT officer that has to defuse a bomb with the help of a field goal-kicking canine. Tom Hanks is a robotic lawyer that takes on ornery judge Charlize Theron. Bryan Cranston is a hot dog vendor that seems to always be near an explosion.
Jeff Goldblum is Senator Gary Oldman's doctor, and he has bad news for him - he's a Centaur Senator. Samuel L. Jackson is a soul plane pilot that's tired of all of the snakes on his plane.
Emily Blunt and John Krasinski is an unlikely couple in feudal times. J.J. Abrams and Martin Scorsese direct the flick behind cones adorned with glasses (Scorsese's features giant eyebrows, natch). Michael Bay produces - he isn't in the trailer, but his robots and explosions are.
Kate Beckinsale shares a not-so-steamy bedroom scene with Chewbacca. Meryl Streep has a mustache, and Helen Mirren has a hovercraft. George Clooney is the world's greatest scientist, but his wheelchair gets stuck on his award when he has to save the world from a meteor being ridden by black Hitler (Gabourey Sidibe). Steven Tyler has a song on the soundtrack, of course.
Jimmy Kimmel's pal Matt Damon steals the show as a bundle of grapes (influenced by Fruit of the Loom commercials, no doubt) and is told he's probably cut from the film.
Get all that? Now you have to watch the trailer!