Jimmy Kimmel Behind Viral Video Of Twerking Girl Who Set Herself On Fire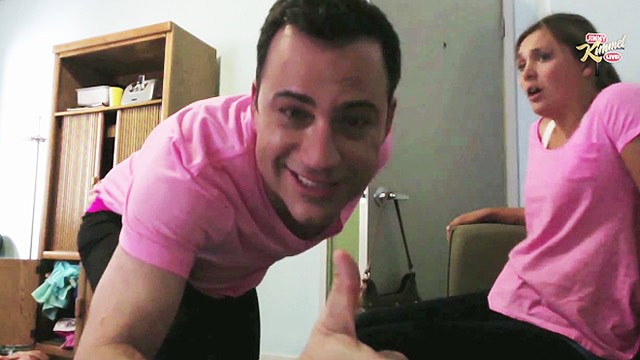 Jimmy Kimmel successfully pulled off one of the biggest pranks ever on the entire internet last week thanks to a video he set up on YouTube.

A video of college girl Caitlin Heller "twerking" became popular last week in the wake of the dance craze that was recently started by former Hannah Montana star Miley Cyrus.

Caitlin attempted to take her moves to a new level in a "sexy twerk video for [her] boyfriend" by trying out the dance while doing a handstand -- but the results were disastrous.

When a friend entered her apartment, Caitlin fell atop of her coffee table, shattering it and ending up with her pants on fire from the numerous burning candles she had on top of it.
Some laughed at the mishap and others watched in shock as Caitlin screamed and stepped back into the frame to reveal that her leg was in flames -- and that's where the video stopped.

But it turns out the 37-second video was just a prank being played by Kimmel for his late night show, Jimmy Kimmel Live.

The TV star revealed that he was behind the whole thing during his show Monday night.
"To the conspiracy theorists on the Internet who thought the video was fake -- you were right," Kimmel said about the video. "It was a fake, we made it up."
The host then connected with Caitlin -- who is actually a stuntwoman named Daphne Avalon -- "via Skype" (she was actually right there in the studio) and asked why the video stopped so soon after she set her leg on fire.
"It got a little intense," she said; revealing that she did get more footage and was ready to share it, though.

The longer cut of the video revealed that after Caitlin's leg caught fire, Jimmy burst into the apartment with a fire extinguisher to put out the fire!

He also explained to the audience how the video was posted without any promotion just to see what would happen, and after a week it had over 10 million hits.
Well played, Mr. Kimmel. Well played indeed.

Check out the big reveal below...