Jimmy Fallon's Kayak Race With Cameron Diaz Goes Horribly Wrong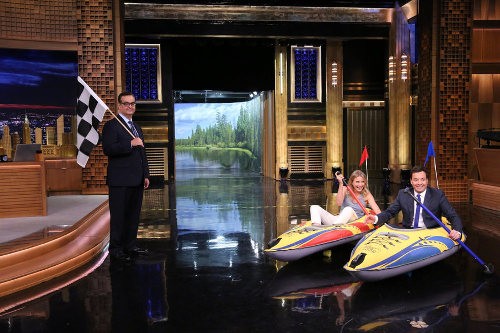 Jimmy Fallon had the fun idea of racing Cameron Diaz on roller kayaks on The Tonight Show, but he didn't get very far.
Diaz was on the show to promote her movie Sex Tape and joined one of Jimmy's many celebrity games. This time, she and Jimmy had to paddle roller kayaks around the studio, keeping out of the way of Elton John impersonators and Josh Gad as he threw trout at them.
Despite his good intentions, Jimmy couldn't keep up with Cameron for very long and immediately had difficulty paddling his kayak. So, he just got out and began pushing Cameron around.
During her inter with Jimmy, she brought up the fact that the talk show host gets to tape practically every day of his life – so he gets to watch himself age!
It's the second time in two months Cameron has been a guest on Jimmy's show – last time she played roller golf with him to promote the comedy The Other Girl.