Jimmy Fallon Recruits Crosby, Stills, And Nash To Sing Iggy Azalea's 'Fancy'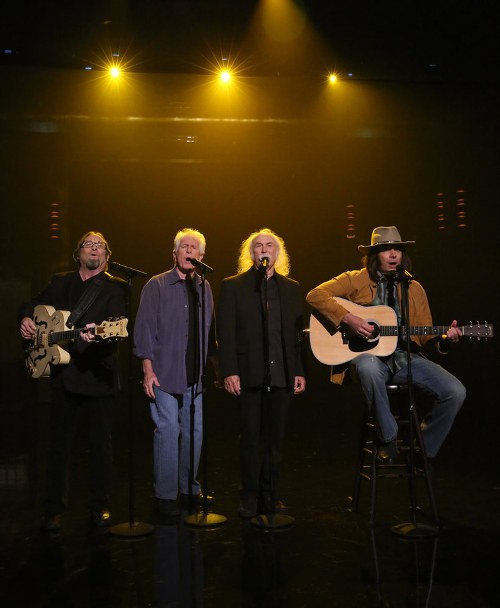 Jimmy Fallon knew he'd have to add some music legends if he wanted to perform a Neil Young inspired cover of Iggy Azalea's #1 hit Fancy on The Tonight Show.
Fallon - as he's done multiple times before - put on his flat-brimmed hat, plaid shirt, jacket, and jeans to emulate the style of the venerable rocker. He then strapped on an acoustic guitar and a harmonica and sang Azalea's hit like it was a folk hit – and it would pass muster, if it weren't for the lyrics ("And I'm still in the Murda Bizness / I could hold you down, like I'm givin' lessons in physics").
When it came time to sing the chorus, Fallon pulled out the big guns: David Crosby, Stephen Stills, and Graham Nash all appeared on stage beside Fallon to sing a four-piece harmony. Judging by how well they did, perhaps they should go on tour – but unfortunately, Fallon is a bit busy for that.
Jimmy previously appeared as Neil Young to sing Whip My Hair by Willow Smith with Bruce Springsteen and to sing the theme song to Fresh Prince of Bel-Air.