Jimmy Fallon Opens Up About Fertility Struggle & The Meaning Behind Daughter's Name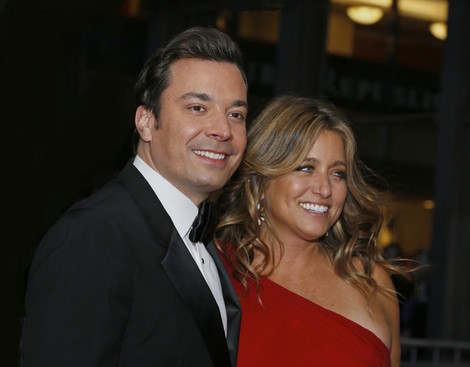 Jimmy Fallon has opened up about his and his wife's struggle to have a baby and revealed the inspiration behind his newborn daughter's name.
"The Late Night With Jimmy Fallon" host and his wife Jancy Juvonen welcomed Winnie Rose on Tuesday, July 23. It had been speculated she'd been named after Winnie the Pooh or "Wonder Years" character Winnie Cooper.
The baby is actually named after the couple's favorite vacation spot, Lake Winnipesaukee in New Hampshire. The couple has visited the retreat annually since they started dating, and it's also where the talk show host proposed. They wed in 2007.
Fallon told Savannah Guthrie on the "Today" show: "We were talking about different names. You over-think names - you don't want a name that's been done, but then you don't want something so weird people are like, 'What?' Winnipesaukee's a little long!"
The name also has a deeper meaning. The couple tried for five years to have a baby before using a surrogate to give birth to their first child.
Fallon added, "Also, she's a 'win' for us. We tried for a long time - five years. I know people have tried much longer, but if anyone out there is trying and losing hope, just hang in there. Try every avenue, try anything you can do. You'll get there. You'll end up with a family. It is the most worth it thing. I'm just so happy right now, I'm freaking out."
The couple didn't tell friends or family about their most recent attempt to get pregnant. "We said, 'We're not going to tell anybody,'" Fallon recalled. "It'd be just more fun if it's just private between me and my wife. And then we get to introduce her to everybody."