Jimmy Fallon Makes Kevin Hart Face His Fears And Ride A Roller Coaster (Video)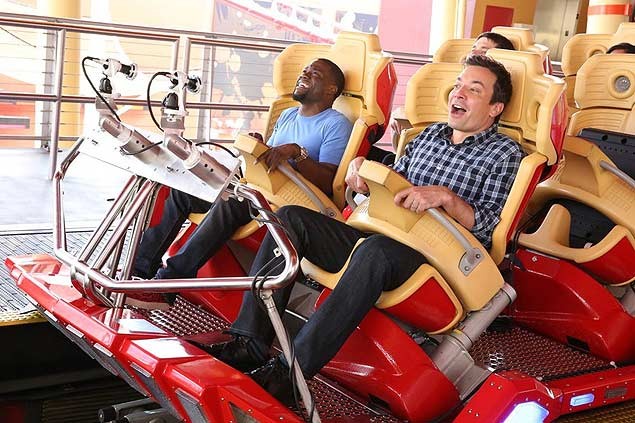 Comedian Kevin Hart braved a trip to Universal Studios in Orlando, Florida, where Jimmy Fallon has been filming The Tonight Show this week, and the two took a ride on the park's Rip Tide Rocket roller coaster together.

The result of the ride is nothing short of hilarious because Hart is terrified of the amusement park rides.

"I don't like 'em. You know damn well I don't like no roller coasters," the actor, on the show to promote new film Think Like A Man Too, said.

Fallon used Hart's latest movie title to describe their daring stunt, saying, "Think like a man, we gotta act like a man! We manned up."

One of the funnier moments in the video is when Fallon gets smacked in the nose by a bug flying by, which reminds of the time when male model Fabio was hit in the face by a bird while riding the Apollo's Chariot coaster at Busch Gardens in Williamsburg, Virginia. Only Fallon wasn't injured.