Jimmy Fallon Makes Conan O'Brien Joke At Emmys (Video)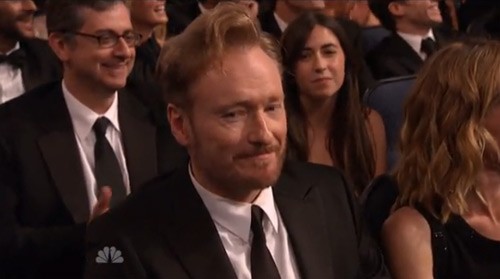 Jimmy Fallon managed to sneak in a slight against NBC - while hosting the Emmys on that very channel. Fallon took Conan O'Brien's late-night show after Conan was given the Tonight Show, which was then famously taken away and resulted in Conan leaving the network.
Fallon strummed a guitar as he prepared to introduce the Comedy section of the Emmys, before joking about himself going to host the Emmys: "NBC asking the host of 'Late Night' to come to Los Angeles to host a different show - what could possibly go wrong?" After a light laugh from the crowd the camera shot to Conan in the seats. He was there to see if his brief stint on the Tonight Show won an Emmy (it lost to The Daily Show).
The crowd exploded into laughter and applause when Conan was shown on the big screen, the comedian nodding in a deadpan manner before saluting the camera.
More Emmys: