Jimmy Fallon Kicks Off His Run As 'Tonight Show' Host With Hilarious First Show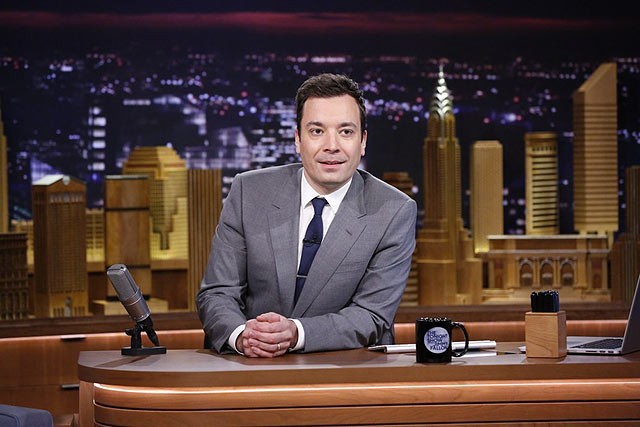 Jimmy Fallon's debut as the new host of "The Tonight Show" was a huge success, making a smooth transition from "Late Night" to his new 11:30 time slot.

Fortunately, not much has changed with the show's format other than its return to the east coast after late host Johnny Carson moved it to Los Angeles in 1972.

"I'm Jimmy Fallon and I'll be your host... for now," Fallon said, poking fun at the 2010 Jay Leno/Conan O'Brien hosting conflict. "I wouldn't be here tonight if it weren't for the previous 'Tonight Show' hosts, so I want to say thank you to Steve Allen, Jack Parr, Johnny Carson, Jay Leno, Conan O'Brien and Jay Leno."

"I just want to do the best I can and take care of this show for a while and if you guys let me stick around long enough, maybe I'll get the hang of it," Fallon said during his first opening monologue. "My goal is to make you laugh so you go to sleep with a smile on your face and live a longer life."

Once the new host settled in behind his desk he thanked the fans for all of their support before saying into the camera, "To my buddy who said that I'd never be the host of The Tonight Show - you know who you are. You owe me $100 buddy!"

After that a whole host of celebrities made their way to his desk one-by-one to plop down $100 bills and make good on their bets, beginning with Robert De Niro and including the likes of Lady Gaga, Mariah Carey, Mike Tyson, Kim Kardashian and Stephen Colbert, who made his 'payment' with all pennies, dumping them from a bucket all over Fallon's desk and taking a selfie with him and then saying, "Welcome to 11:30, b*tch!"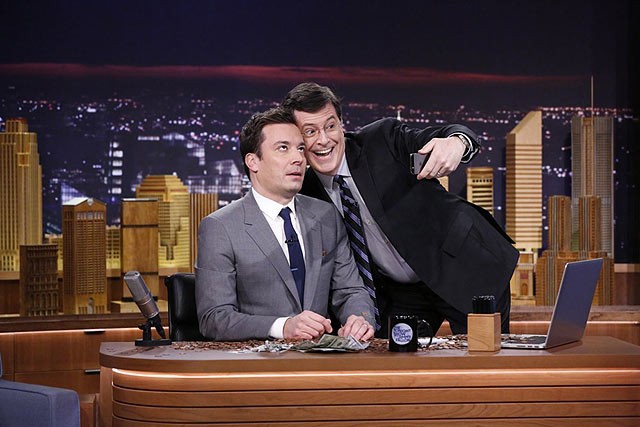 Taking a page right out of his "Late Night" repertoire, Fallon and first guest Will Smith, dressed in overalls and work boots performed the hilarious "Evolution of Hip-Hop Dancing."

The host's longtime house band The Roots also made the move to the show with Fallon, along with announcer Steve Higgins.

U2 appeared as Fallon's first ever musical guest, performing new song "Invisible." Lead singer Bono also gifted Fallon with a red guitar from his (RED) charity collection.

Other guests for the first week include Jerry Seinfeld, Will Ferrell and Bradley Cooper.