Jimmy Fallon Hopes Betty White Doesn't Show Up Drunk At Emmys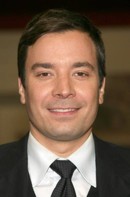 Jimmy Fallon joked about Betty White appearing at Sunday's 62nd Annual Primetime Emmy Awards wasted.
"Dear Lord," Fallon feared.  "It is just a mess.  It is just a mess.  We were out a John Mayer concert the other night -- it was a mess getting her home."
White, 88, is expected to attend the event in Los Angeles.
"She's a great sport," Fallon said in earnest.
The 35-year-old comedian chatted on the phone from the Nokia Theatre, the venue for this weekend's ceremonies, Wednesday afternoon.  He says he's been keeping in top shape for the high-profile gig, frequenting the treadmill and drinking "green juice."
"It's a mixture of kale, spinach and cucumber.  It tastes like lawn clippings," he said.  "I need to be in shape so I don't run out of breath standing at a podium, reading names."
Fallon says he's nervous, but looking forward to the broadcast.  He says it's been "a great year" for television, with new shows like "Modern Family" and "Glee" to exited shows like "24," "Lost" and "Law & Order."  And though he "can't legally say" who he's rooting for, Fallon admitted a soft spot for his TV alma mater, "Saturday Night Live."
"It's made me who I am," Fallon said of the show, which he described as "underrated."  "The fact they're doing a live show that they put together in a week... it's a fascinating show."
Fallon debuted on "SNL" as a featured player in 1998, and was promoted to full-time cast member in 1999.  After leaving the program in 2004, he appeared in a few comedy films, and was eventually chosen as Conan O'Brien's successor for "Late Night," assuming the role last year.  "Late Night with Jimmy Fallon" was nominated for two Emmys this year, and won both at the Creative Arts Emmy Awards last Saturday.
"We're still babies.  We've only been on the air for a year and a half," Fallon said of his "Late Night" staff.  "Everyone works so hard.  What a crazy year this has been.  I can't be happier with the way everything's turning out."
And this year, the Emmys are incorporating audience interaction via new media, a la Fallon's own show -- specifically, his "Hash Tags" segment, in which Fallon encourages the home audience to tweet funny feedback.  If the tag is #myparentsareweird, a Twitter user could tweet, "My mom dances at the ATM machine to give the security guys some entertainment," Fallon said.  
For the Emmys, Fallon has invited fans to tweet introduction ideas for the show's celebrity presenters.  He gave the example: "My grandmother wants to leave my grandfather for him -- Jon Hamm!"  Fallon will use his favorites on the air.
"We thought it was a pretty cool idea, because this technology didn't exist in the past," he added, and said entries have been coming in already.
"I sat down with my writers, and asked, what can we do, how can we make it interactive?  We decided we could have people tweet if they wanted a 'Boy Meets World' reunion... but we couldn't get Topanga.  She didn't sign on," Fallon joked.  "It's gonna be fun.  It's fun for the audience, as well as our show."
Although he was tight-lipped about Sunday's show, Fallon did reveal he is a big TV-watcher, and listed some of his favorites as "The Biggest Loser" and "Glee."
"I am a Gleek," Fallon proclaimed.
Catch the 62nd Annual Primetime Emmy Awards this Sunday on NBC, live, at 8 p.m. EST, 5 p.m. PST.
For more information on the Twitter contest, click here.