Jimmy Fallon Has A Tight Pants Dance-Off With Jennifer Lopez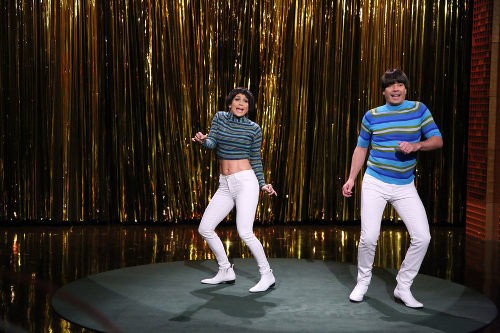 Jennifer Lopez may not be headed to Brazil to open the World Cup, but she still found a place to shake her stuff.
Last night on The Tonight Show Starring Jimmy Fallon, Fallon was showing off a pair of tight white pants while singing about how everyone loves his tight pants. Unfortunately for Fallon, there's someone who looks a bit better in tight pants backstage.
Jennifer Lopez, also wearing tight pants on her fine figure, sings that she's the one everyone loves her tight pants. When Fallon dares to suggest otherwise, "Jenny from the block" gets her claws out.
The odd skit, which plays like a rejected Saturday Night Live segment, was also performed on Late Night with Jimmy Fallon back in 2012 – but with Will Ferrell.