Jimmy Fallon 'Freaking Out' Before First 'Tonight Show'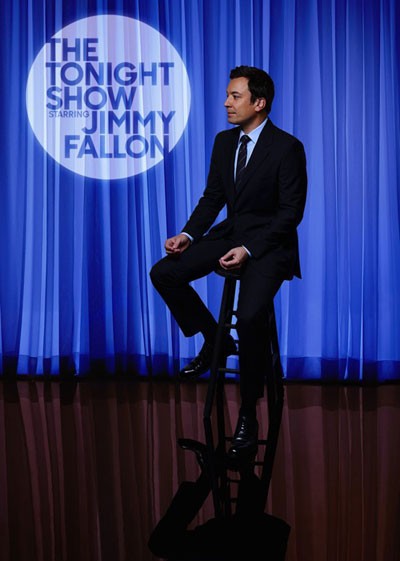 Hosting a talk show is nothing new for Jimmy Fallon, but hosting the revered Tonight Show has given the Saturday Night Live alum the shakes.
Fallon told Ryan Seacrest on his radio show, "I'm Freaking out right now. It's so exciting. It's Crazy… This is the dream job."
Jimmy went on to explain that he didn't realize his place in television history until he saw an NBC promo putting him in a list with past hosts, which includes Johnny Carson and Jay Leno. "When they showed me that… you see all the other hosts that come before and that's when it kind of kicked in. Like, this is real. Those guys are legends, just to be on the list it doesn't make any sense to me… I get goose bumps… it's getting so real now that it's actually happening."
Jimmy also revealed he's battling the cold, something he's dealt with before when it comes to new gigs. "The first time I hosted Saturday Night Live, it was such a big deal for me, I think my immune system just like broke down, so I got the flu or something so… maybe it's something that happens to me when I get nervous… but I get through it… because that adrenaline rush."
Perhaps that's why Jimmy wrote himself a pep talk on Instagram. He posted, "February 17, 2014 This is it. We are starting a new chapter of the Tonight Show. I can't even begin to describe what we are all feeling right now here at 30 Rockefeller Plaza, NYC. But - I know that we'll never have this exact feeling ever again.
"By this time tomorrow we'll no longer wonder what it would be like to do the Tonight Show. We can't put that feeling - that moment back in the bottle. All we can do is try to make the best show that we can and make people happy. And we will. Here's to the first of many. Fun."
Who else can't wait for tonight?