Jimmy Fallon Falls & Cuts Hand During Martini Race With Chelsea Handler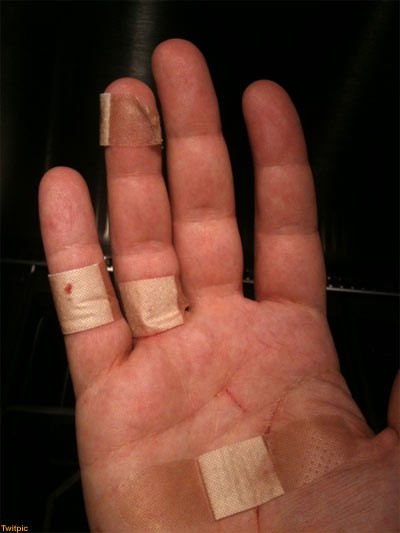 Jimmy Fallon challenged fellow TV talk show host & vodka lover Chelsea Handler to a Martini race on his show Tuesday night, but didn't fare so well.

Fallon raced down the aisle through his studio audience and ran on stage at full speed carrying two Martinis before appearing to hit a wet spot on the floor caused by some of the liquid Handler was pouring during their contest. Fallon's feet came right out from under him and he went down hard, cutting his hand from the broken Martini glasses.

After the incident, Handler said, "I'm so glad that was you that fell;" to which Fallon exclaimed, "You made me bleed!"

Adding more humor to the scene, Handler said she was just trying to promoter her new book, "Chelsea Chelsea Bang Bang", the sexually charged follow up to her 2008 best seller, "Are You There, Vodka? It's Me, Chelsea"
The above photo was taken from Fallon's Twitter page, which he captioned, "No guts, no glory. All new Late Night tonight!" You can check out Jimmy's Twitter feed right here on Starpulse.