Jimmy Fallon Asks Helen Mirren's 'Magic Mirror' The Important Questions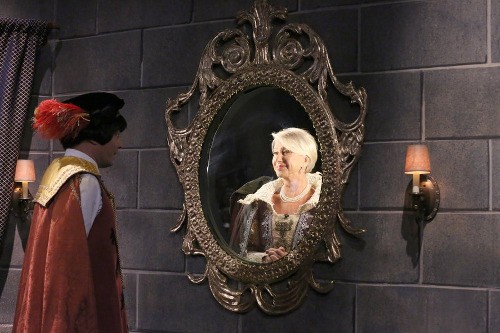 Can you believe it's been 100 episodes already for Jimmy Fallon on The Tonight Show? To Celebrate, Jimmy had beloved actress Helen Mirren on the show and acted opposite her in a sketch titled "Mirren, Mirren."
In the sketch, Jimmy is an inquisitive fellow (Helen later calls him an "Australian pantomime dame") who asks the magical Helen Mirren Mirror questions like "What do you think of Fifty Shades of Grey?" You know, hard-hitting stuff.
Mirren, who only replied in rhyme, said "The whips and chains are not my style, but who doesn't love a jolly good spanking once in a while?" The theme continued when she was asked about what she orders at Subway: "My motto in life is you can never go wrong by treating yourself to a nice footlong."
Helen then sat down to talk to Jimmy about her film The Hundred-Foot Journey and her interactions with British royalty, including that infamous photo of her in which she appears to be wagging her finger at The Queen.