Jimmy Fallon And Bruce Springsteen Cover 'Whip My Hair'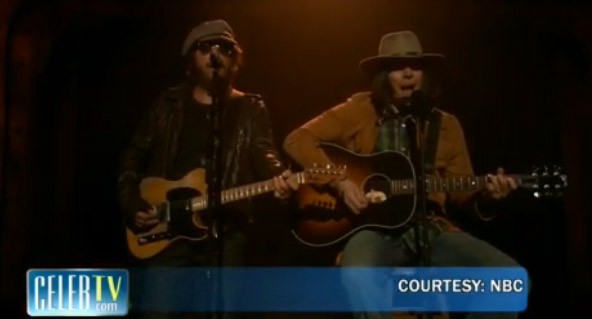 There were several great moments when Bruce Springsteen made a rare talk show appearance on Late Night With Jimmy Fallon, but only one is still making waves on the internet: a cover of Willow Smith's Whip My Hair performed by Jimmy Fallon (as Neil Young) and Bruce (as a 1970s version of himself). Watch it below.
Bruce Springsteen was on the show to promote his new Darkness on the Edge of Town box set, and also performed "Because the Night" and "Save My Love" with Jimmy's house band The Roots. He was featured for the entirety of the show, including an extended interview.
The Darkness on the Edge of Town 2 disc set contains 21 tracks that were recorded during the original Darkness sessions. It also comes with the recently released Darkness on the Edge of Town documentary detailing the making of the album that aired on HBO in early October. 
Click for more Bruce Springsteen Pictures: