Jim Rash Denies Mocking Angelina Jolie's Leggy Oscars Pose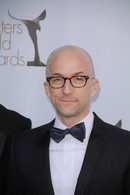 Comedian Jim Rash insists he mimicked Angelina Jolie's striking, leggy Academy Awards pose as he collected the Oscar for Best Adapted Screenplay as a "loving tribute" to the Hollywood beauty.

The Community star and co-writers Alexander Payne and Nat Faxon picked up the award for their work on The Descendants at Sunday's big event, and Rash raised a laugh onstage by copying the strong pose Jolie had adopted while reading out the nominees minutes earlier.

Flaunting her long right leg through the slit of her black velvet Atelier Versace dress, Jolie wowed the audience and TV viewers, but it was Rash's funny stance that became a talking point of the evening.

However, he insists he only meant to pay tribute to the Salt stunner.

He says, "I had just seen her pose and thought it was bold and fun. And you know what? We have exactly the same legs. (It was) a loving tribute and nothing but."

Rash tells the Washington Post, "It was just an impulse. I was just standing there and I thought (I'll stick my leg out). I hope it was OK. I hope she thought it was OK. It was a loving tribute."