Jim Carrey's Real Visit From The Ghosts Of Christmas Past And Future

Shooting a motion capture animated version of
A Christmas Carol
put
Jim Carrey
in touch with his real Christmas ghosts. This week kicks off Disney's Christmas Carol train tour where visitors can go behind the scenes of Carrey's upcoming Christmas movie. Introducing the tour, Carrey reflected on his own personal Christmases.
"Christmas was really where I started coming into my own as a performer because I did all this stuff on my own, all this performing on my own," he said. "When other kids were outside playing, I was in my room conjuring characters and impressions and things like that. It came to fruition, it all came together on the Christmas holidays when everybody would come over to our house, all the relatives and neighbors and everybody would storm our house because it was the Jim Carrey show. I was a little kid but I would throw myself down stairways and do all kinds of characters. That's how I first got popular within my family. It's funny, I needed to get popular within my family. That's really the test. But that was important to me."
On a serious note, Christmas has also been a time of profound personal reflection for Carrey. "I did have somebody very close to me that I got a call one day telling me that this person had passed away. This was just before I took this job, and I got this terrible phone call and I was totally distraught. I was really ruined by it because I'd felt like I hadn't been involved in their life enough. Then I got a call 10 minutes later to tell me that it wasn't true, that it was just a rumor. I went wow, that's the ghost of Christmas future. I just had an opportunity without actually having to experience it of what it might be like to lose this person. It made me much more involved in their life."
That person knows who they are. "No, I can't say who was that person. They wouldn't want me to say who it was."
"A Christmas Carol" is coming this November.
See more photos of Jim here!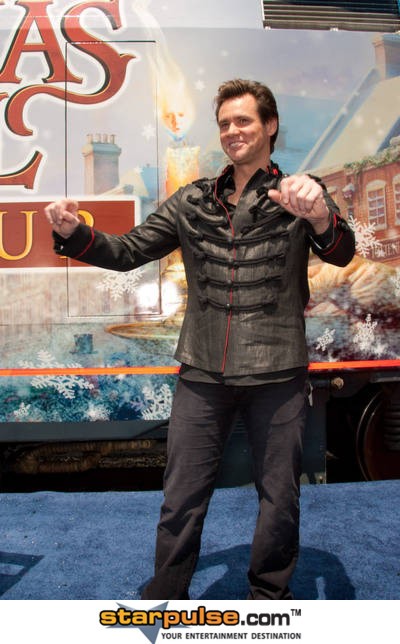 Image © PR Photos
Story/Interview by
Fred Topel
Starpulse contributing writer
(Starpulse in Hollywood)
: Every week, Hollywood's biggest stars are meeting in the hot spots and Starpulse is there.